LAKE OZARK, Mo. — A four-level ropes course is planned for the Bagnell Dam Strip, to open by spring 2020. The unique offering is an effort by one Lake area business developer to make the Bagnell Dam Strip in Lake Ozark, a more "family-friendly destination."
"The Strip used to have a lot more things for kids to do," Tucker's Shuckers Oyster and Tap owner George Tucker said. "We already have a lot of families at Tucker's Shuckers and I wanted to give them something unique to do, and this will be fun for all ages."
Ropes Courses, Inc. will custom-design the course according to Tucker's specifications. Each course designed by the company is unique, with 300 variations to choose from.
According to Tucker, the Tucker's Shuckers splashy colored-pirate themed ropes course will feature 25 obstacles. Among them: a zip line option, a tippy walk-the-plank, a log roll, a swing, and a tight rope. Thrill seekers that reach the top of the course have the option of taking the quick-jump free-fall exit: a three-story descent with a gentle landing that delivers a breath-taking grand finale!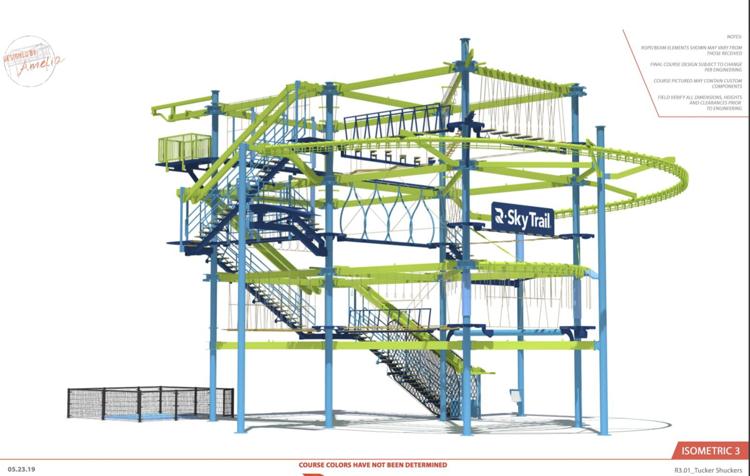 Kids will get to play in a safe environment while the grown-ups get to have a drink and enjoy delicious food, while watching them from a patio below the ropes course.
Tucker said ropes courses are popular, mostly for the middle school to high school age group. They can be seen at shopping centers, resorts like Big Cedar Lodge and Pigeon Forge, on cruise ships and more. "They are fun and great exercise, and they require less insurance than a go-cart track, because they are so safe," he explained.
The ropes course will be open to all ages, but children have to be at least 4 ft. tall to get in, and once they are in, they will be locked into a safety harness that can only be removed by a ropes course attendant's key.
As soon as all the utilities are finalized, it will take four days to build and ten days to set up. "We will have it ready for St. Patrick's Day 2020," Tucker said.
Admission into the rope course will cost an estimated $20 to $25, and once paid, kids (or kids at heart) can stay in as long as they want, until they do the zip line/free fall, when they will be required to exit.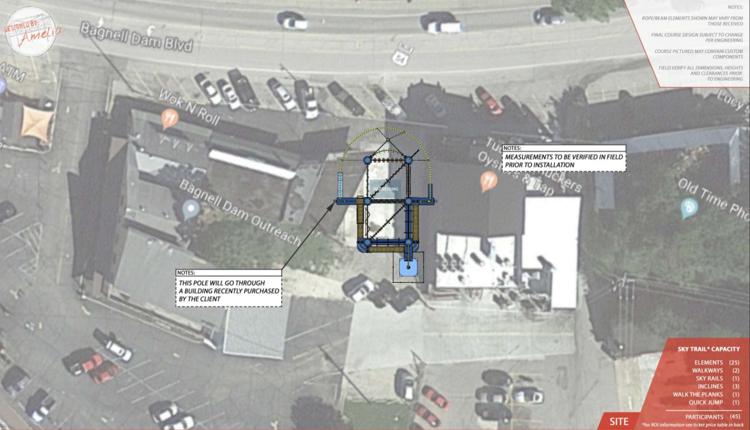 Keeping The Strip A Place For Families
The Strip, in its hey-day, was a popular destination for families and was filled with things for kids to do. There was "Two Bit Town," skeet ball, bumper cars, bumper boats (in a pool), batting cages, a zip line, two arcades, ice cream shops, a haunted hotel and more. There was once even a caged lion. (Because why not?)
In the 1960s, the Lake of the Ozarks truly came into its own as the Midwest's playground. Am…
Those attractions are gone, and the lower part of The Strip—near Bagnell Dam—has been developed with more adult-friendly fun: restaurants and bars. There are still opportunities for families on The Strip, at the arcade, Lake Escape, a couple of ice cream shops, and a candy store. Lake Ozark Live holds dance and hula hoop competitions on the weekends for kids. "The Magic Dragon Car Show and other events also have well-attended children's activities and bounce houses," Lake Ozark City Administrator Dave Van Dee added.
Still, laments are often heard about the good old days when The Strip was for families. "We want to see The Strip be an entire venue, not just for adults, but a place for everyone,"  Van Dee said. "That will give people more reasons to visit."
The ropes course at Tucker's Shuckers may help bolster The Strip's kid-friendly creds.
But before construction can begin, the Lake Ozark Board of Aldermen have to approve a zoning variance. According to Van Dee, Tucker's Shuckers is located in Commercial-1 zoning and a Special Use Permit and Variance are needed for this type of use in C-1 zoning. "The height restriction in C-1 zoning is 45 ft. and the support columns for the rope course are 47.5 ft." Van Dee explained. The planning and zoning commission has already approved recommending the special use permit, with the variance. The Board of Adjustments will vote on the variance at their June 20 meeting and the board of aldermen will read the ordinance for a second time and then vote at their June 25 meeting.
The Lake Ozark Board of Aldermen and Mayoral candidates answered questions and discussed top…
Tucker's Growing Success
Tucker owns three restaurants at Lake of the Ozarks: Tucker's Shuckers Oyster and Tap on the Strip, Franky and Louie's Bar and Grill in Sunrise Beach, and Paradise Sports Bar and Restaurant in Sunrise Beach.
"We are going to have some new and exciting menu items that will change every month at Tucker's Shuckers," Tucker announced.
Besides a new chef and delicious food and drinks, Franky and Louie's has a white sand beach for swimming, boat and jet ski rentals, an ice cream shop and a campground.
Paradise is literally a sports-lover's paradise. Along with weekly food and frozen drink specials, they have 10 big screen televisions with a view that overlooks the water, high on a beautiful bluff.
Local sixth graders are imagining the future of the Bagnell Dam Strip, and city business lea…
Celebrating the city's 50th anniversary, the Bagnell Dam Strip Association presents the 32nd…
LAKE OZARK, Mo. — Chief Bagnell returned to the historic Bagnell Dam Strip on Friday, Aug. 1…