LAKE OF THE OZARKS, Mo. — Rubber duckies by the hundreds will make a splash-landing into the Osage River, for the annual Great Bagnell Dam Duck Drop, Aug. 2–3. Central Bank presents the 11th annual event, featuring a golf tournament and a family-friendly duck drop and fun zone. 
The golf tournament will be held The Ridge Golf Course at the Lodge of Four Seasons on Friday, August 2, starting at 1:30 p.m. Each hole will have obstacles to make rounds more exciting and entertaining for participants. Registration and lunch starts at noon with a four-person scramble. Businesses can sponsor a hole for just $50, and all proceeds from this golf tournament go towards the Lake Area Big Brothers Big Sisters and the Ozark Coast Kiwanis. Hole sponsorships are still available: call 573-825-8135 or visit greatdamduckdrop.com to become a Hole Sponsor. View all sponsorship opportunities here.
On Saturday, Aug. 3, the Family Fun Zone will open at 10 a.m. at the Lake Ozark Campground below the dam, and will be open until 1 p.m. Ducks will be dropped at noon by helicopter over the Osage River, below Bagnell Dam off the Strip. Then the race is on, until the first duck crosses the finish-line. The winner gets $5,000, and there are other prizes for runners-up as well. Duck Drop tickets are $5 each or $20 for six tickets. Ticket sales end at 11 a.m.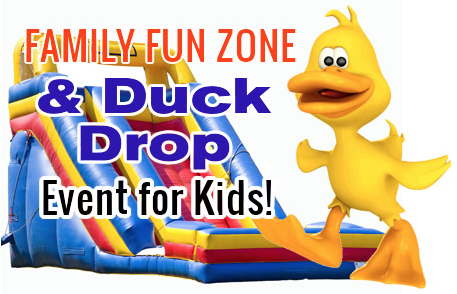 Winners will be contacted either at the family fun zone or by phone if not present for the announcement. Proceeds from the family fun zone and duck drop will go toward Ozark Coast Kiwanis, who in turn support Kids Harbor, Citizens Against Domestic Violence, The Food Pantry, Lake Area Big Brothers, Big Sisters Wonderland Camp, and others. 
To learn more information about the golf tournament and family fun zone, visit their website: greatdamduckdrop.com or call the number 573-825-8135.
Great Bagnell Dam Duck Drop - 2016
Rubber duckies fly—or at least, fall—at the annual Great Bagnell Dam Duck Drop. At this year's Duck Drop on Saturday, Aug. 6, families enjoyed the Fun Zone before the ducks hit the Osage River for a race downstream. One lucky winner took home $5,000.
Check out photos of the Duck Drop Golf Tournament, too
Photography by Sara Halverson Photography
All photos under copyright protection. To purchase digital photos, e-mail ID number to lakeexpo@yahoo.com