The holidays are a time for families to gather. But some children don't have that option, and Central Missouri Foster Care and Adoption Association (CMFCAA), with an office in Osage Beach, is helping connect people and communities to help love and support those children. 
Currently one of the only organizations in Mid-Missouri that caters to the needs of children in foster care and foster families, CMFCAA was started in 2007 by DeAnna Alonso. For DeAnna, the mission was personal: she had spent time in the foster care system herself, before aging out at 18. She then spent several years homeless before getting a job and getting married. Alonso had already had her first child when she got a call from Kentucky that her sister's three children were being placed into foster care and they were in danger of being split up. She took in all three children and eventually adopted them, but during that process she learned there was no organization in Mid-Missouri to help children in foster care and support foster families. 
"[There was] no support group and nothing [to help] her, going from one child to four children overnight. No help to provide clothes or bedding or sheets or a crib," Jennifer Wenkel, CMFAA's community specialist, explained. "That's how the agency was formed."
CMFCAA offers an array of services: from Begin-Again Backpacks that hold the basic necessities for children entering foster care, to the community Connections Youth Project that helps children aging out of foster care.
30 Days To Family
One particularly impactful service is the 30 Days To Family Program, which focuses on finding grandparents and other family members for children who are entering foster care. That program just recently reunited three siblings—aged 14, 13 and 11—with their father who hadn't seen his children for several years. The children's mother had taken them from Nevada to Missouri and the children had since been removed from her custody due to allegations of abuse and neglect. 
When the children were removed from her custody, they feared they would be split up and put into different homes. Unfortunately, that's exactly what happened when Missouri's Department of Social Services couldn't find a home that would take three children. The only way to keep these kids together would be if they found a family member who could take them in, and that's where 30 Days To Family stepped in. A specialist began looking diligently to try and find the children's father. Through creative means, she finally found him through a family member's Facebook account and sent him a message.
"They got in contact with the dad who hadn't been in contact with these kids for five years because he didn't know where Mom was. He immediately started working with us and did all the steps needed, went ahead to get appointments and get them enrolled," Wenkel said. 
But then came the next hurdle for CMFCAA: how would they get the children to Nevada? A mountain of paperwork was required to get agreement from Missouri to let the children return to Nevada, and even with all of CMFCAA's efforts it still took six months to get approval. 
Ultimately, when the state finally approved the release of the children to their father, not only did CMFCAA assist with the packing and shipping of the children's belongings, they also purchased plane tickets for the children and accompanied them on their first-ever plane ride to reunite with their father.
(Note: Photos of the reunion published with permission, and no faces are visible.)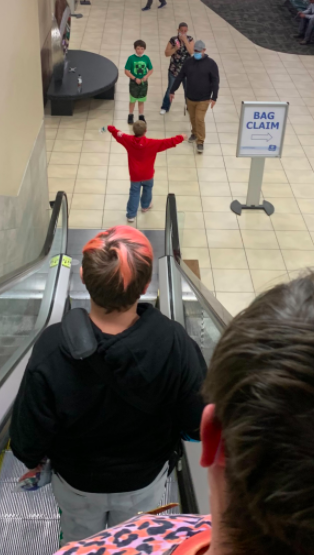 It was a joyous reunion. 
"It was the most magical thing. The pictures say it all. They were in tears and so excited to see their dad, running down the escalator. So we were able to get kids out of care and reunite them with a family member," Wenkel said.
Helping Families
That's just one story. In addition to their year-round programs for children in foster care, this year CMFCAA also provided 129 turkey dinners for families and helped 113 families with gifts for Christmas. On top of that assistance, they're also throwing a Winter Ball for the kids and families. 
"It's going to be a Renaissance theme with jousting on bouncing horses and juggling and hair braiding," Wenkel said. "It's just for foster kids and their families. It's going to be great."
-
Looking for a cause to support this time of year or have a New Year's resolution to volunteer more? Learn more about Central Missouri Foster Care, here: https://mofosteradopt.com