Perched on a bluff at the Lake's 44 Mile Marker is a place you've probably never heard of: Camp Hohn, also known as the Lake of the Ozarks Scout Reservation.
The 465-acre camp is a scouting mecca: the sole camp for the Boy Scouts of America's Great Rivers Council — which covers central and northeastern Missouri — offers classic scouting outdoor experiences such as shooting, climbing, ziplining, canoeing, and orienteering. It sports 1.5 miles of Lake of the Ozarks shoreline, and more than 1,000 scouts participate in the summer camps there. But it also has the nation's only Boy Scout Invention Campus, the flagship facility of the newly created Invention Scouts. Dubbed the Sinquefield Invention Campus in honor of Invention Scouts founder, Scout Leader Dr. Jeanne Sinquefield, the 6,000-square-foot facility brings scouting experiences into the 21st century. That's according to Great Rivers Council Program Director Thomas Yang.
"The Lake area is great. We do have access to the waterfront, climbing towers, all that stuff," Yang explained, "but we wanted to expand that, to show that scouting is all of those traditional programs, but more." So the Invention Campus introduces scouts to skills like 3D printing, laser engraving and soldering. The current list of merit badges offered in the lab includes Inventing, Game Design, Engineering, Sustainability, Chess, Salesmanship, Entrepreneurship, Radio, Photography, Movie Making, Digital Technology, Sculpturing, Graphic Arts, Model & Design, Woodcarving, Woodworking, Metalworking, and Blacksmithing. By summer of 2022, the camp will complete construction on another facility, this one geared toward teaching scouts skilled trades like marine repair, automotive maintenance, plumbing, and HVAC.
This weekend, Oct. 1–3, Camp Hohn will host the second-ever Invention Jamboree, a one-of-a-kind event giving scouts the chance to explore tech and put their ideas to work. Yang says around 200 scouts from across Missouri will be coming to the event, with 300+ people expected in all. Upon arriving, scouts will choose a "path" for the weekend; each path is named after a famous Missouri inventor.
Path 1, George Washington Carver: shooting, soldering, blacksmithing, geospatial mapping
Path 2, Edwin Hubble: climbing, ziplining, soldering, welding
Path 3, James Fergason: drones, woodworking, and design
"It's all about creating and making," Yang said, "and these are things you typically don't see associated with a scout camp… this is the only Boy Scout camp in America right now that has the capabilities to do these types of things."
The inaugural Invention Jamboree in 2019 was a hit, and brought Missouri Governor Mike Parson out for a visit.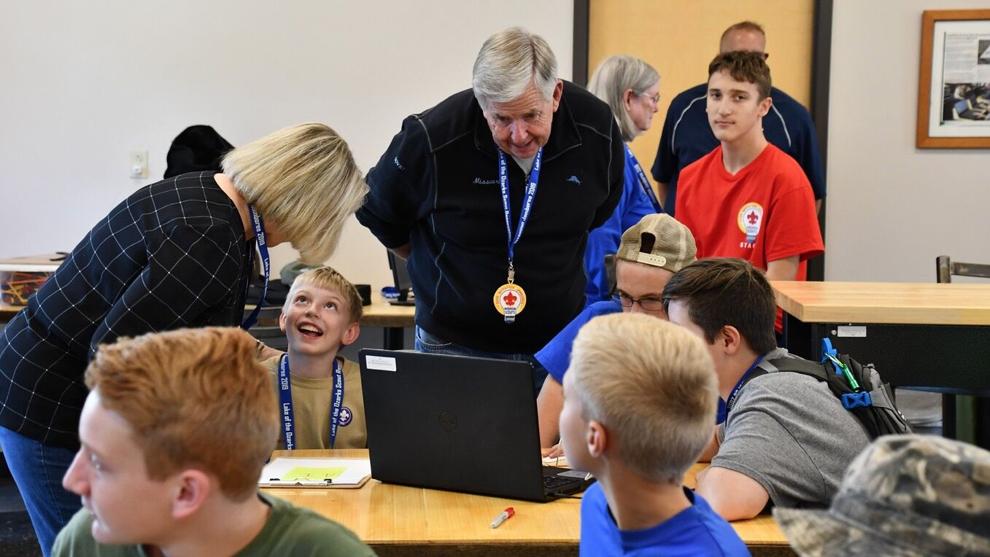 Camp Hohn is primarily directed toward scouting, but it's also available for use by non-scouting organizations. For awhile, Yang said, Versailles Middle School would come out to the camp. Most recently they had a group from Veterans United who came down to do some team building. Churches, community organizations, school groups, or others interested in the team-building opportunities offered by Camp Hohn's facilities are encouraged to contact Camp Director Dennis Kerns: 573-374-5761.
Camp Hohn is located at 525 Camp Hohn Drive, Gravois Mills, Mo.
Invention Jamboree: https://scoutingevent.com/653-iJambo2021
Learn about Camp Hohn at https://grcbsa.org/lake-of-the-ozarks-scout-reservation/
Learn about the Sinquefield Invention Campus at https://grcbsa.org/sinquefield-invention-campus/
Learn more about Invention Scouts at InventionScouts.org.