seniors
21 and over
contributed
promotion
Colon Cancer Awareness Month - GET TESTED/GET A GIFT CARD
–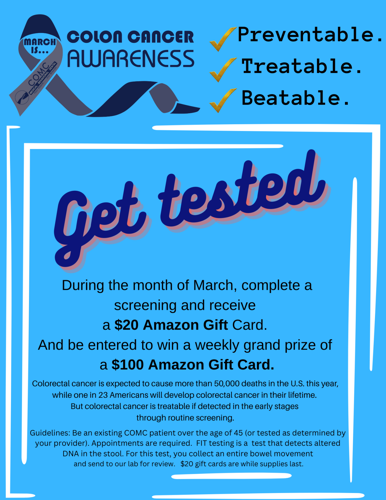 During the month of March, complete a screening at a COMC clinic and receive a $20 Amazon Gift Card ( while supplies last). And be entered to win a weekly grand prize of a $100 Amazon Gift Card. Clinics are located in Camdenton, Laurie, Osage Beach, and Richland.
Colorectal cancer is expected to cause more than 50,000 deaths in the U.S. this year, while one in 23 Americans will develop colorectal cancer in their lifetime. But colorectal cancer is treatable if detected in the early stages through routine screening.
Guidelines: Be an existing COMC patient over the age of 45 (or tested as determined by your provider). Appointments are required. FIT testing is a test that detects altered DNA in the stool. For this test, you collect an entire bowel movement and send to our lab for review. $20 gift cards are while supplies last.
Starting Wednesday, March 1st, 2023, repeats every week on Wednesday until Friday, March 31, 2023 @ 8:00 am – 6:00 pm