TRUMAN LAKE, Mo. — It's been a rough year for Truman Lake. While Lake of the Ozarks managed to avoid lake-related flooding during this year's cool and excessively wet spring, Truman Lake swelled to record levels. The lake, built primarily for flood control, held back what floodwaters it could, as downstream communities on the swollen Osage, Missouri, and Mississippi rivers dealt with their own flooding.
But even Truman could only take so much. The water level continued to climb through the month of May, with videos showing the level nearing the top of the floodgates. So on May 28, Truman Dam's floodgates opened. The water level continued to climb, and Truman Lake reached a record pool of 739.82 feet of elevation when it crested on June 3: more than 33 feet higher than the normal level of 706 feet. The water flowed into Lake of the Ozarks, which generally matched those inflows with outflows through Bagnell Dam into the Osage River.
Since that time, with intermittent heavy rain, Truman Lake has struggled to lower its water level. As a result, businesses and the community around Truman Lake have spent the summer trying to recover and clean up, as the slowly receding water level would allow. By the first week of August, Truman was still at 720 feet, though levels were steadily falling.
The intense, lengthy flooding severely impacted businesses and day-to-day life.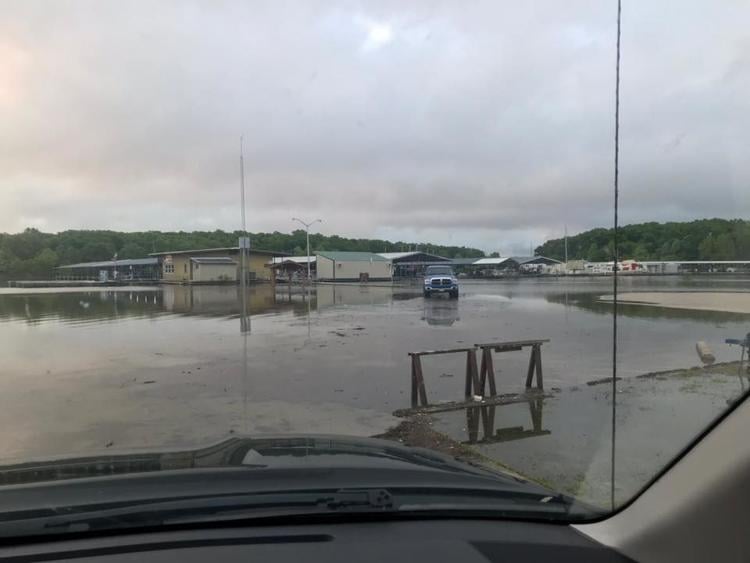 Truman State Park Marina owner Rick Gladson said business has been down due to the flooding, but he's managed to remain optimistic. The business has survived despite the floods, and he says the outlook for the future is good. The marina managed to stay open by shuttling customers through the floodwaters from May 12 until July 27, when their walkway was finally once again useable.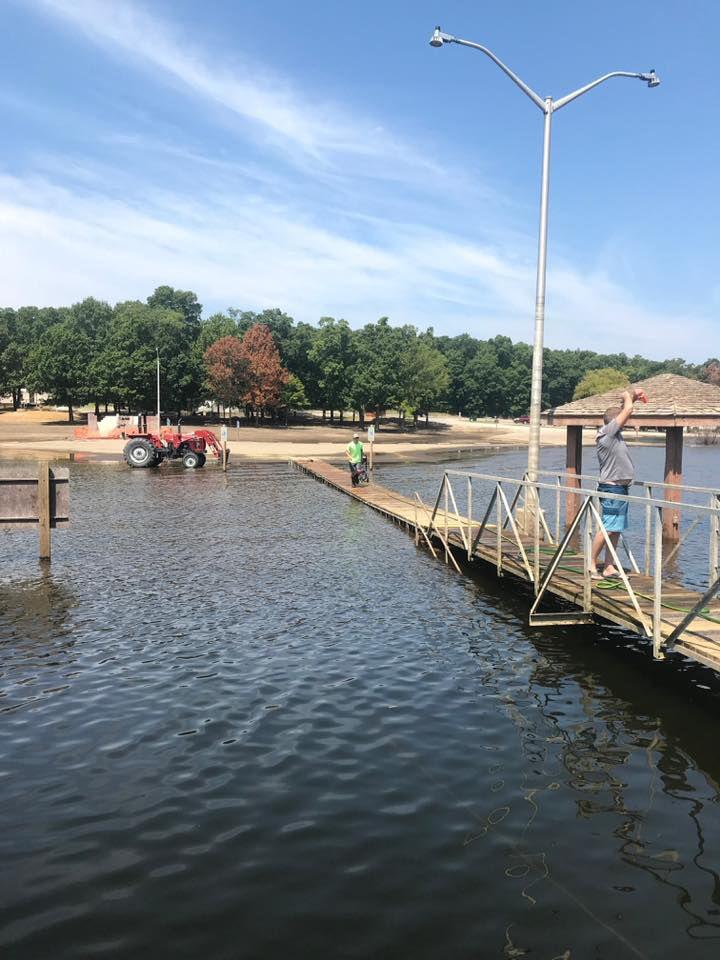 Their marina has sustained no major damage aside from slight wind damage. Gladson says that he's very happy that the operations of the marina have gone back to normal and said that on the bright side, throughout the flooding, the fishing has been great.
Sterett Creek Marina owner Ken Beyer said their revenues have been down by about 50 percent this summer. But that's largely because the marina had to closed in mid-May. In fact, conditions got so rough at Sterett Creek, that the marina, campground, motel, and restaurant operations completely shut down for three weeks beginning on Memorial Day. Their parking lot was completely flooded, electrical boxes went under water, and the sewer and gas pumps were inoperable. They were finally able to re-open the boat ramp on August 2. But due to the lengthy closure, employees had to seek out other employment opportunities, so Beyer is having to start hiring a staff, from scratch.
Beyer says he's been told not to expect any help from FEMA. "Because there was so little road or structural damage to the county, Benton County is not eligible for disaster assistance in regards to electrical damage or lost revenue," he said.
He also pointed out if there were more high water ramps around Truman Lake, Sterett Creek could have continued to launch boats; but due to all infrastructure being below this year's flood level, they were unable to accommodate guests. "I hope the one thing we get from this is government attention in regards to the lack of high water ramps around Truman Lake," Beyer said. 
According to Truman Lake Supervisory Program Manager Rich Chiles, Truman Lake has been dropping by about half a foot a day for the past several weeks. Slowly, boat ramps and some camp grounds have been opening back up, though courtesy docks and restrooms are still closed. 
Under ideal conditions, Truman Lake could be back down to normal levels in 4-6 weeks. But the busiest part of the summer boating season is drawing to a close. Truman Lake businesses that depend on boating will have the fall fishing seasons, and then can only hope for a 2020 that could make up for some of this year's losses.