LAKE OF THE OZARKS, Mo. — Talk about using your powers for good: a group of local scuba divers spent their Sunday cleaning up a quiet but much-loved cove on Lake of the Ozarks.
The Debris Clean-up Dive on Oct. 20 began at 11 a.m., in what is known as "Hidden Cove," "Snake Cove," or "Skinny Dip Cove" (because, of course, every cove at Lake of the Ozarks needs at least two names). The first name may shed light on the third one: the skinny, winding cove sits upstream from Margaritaville (formerly Tan Tar A), and is notably undeveloped, considering its placement in a popular area of the Lake, around the 27 Mile Marker. Only the entrance of the cove is developed, with a string of townhomes and a community dock on one side. But most of the cove is hidden from the main channel, thanks to the way it winds back and forth up the valley. That also makes it a favorite for divers.
Chris Heitman was the Clean-up Dive organizer, and he also happens to be the Sheriff of Maries County. He worked with Lake resident Chase Sartin to set up the event.
The divers went down with nylon bags typically used for onions in the grocery store: allowing them to easily bag the trash they found, without battling a nonporous bag under water. In all, eleven divers and five helpers attended, honing their skills and bringing up 265 pounds of debris—mostly cans and bottles, but also an anchor—from the bottom of the Lake, which was about 24 feet, max, in that part of the cove.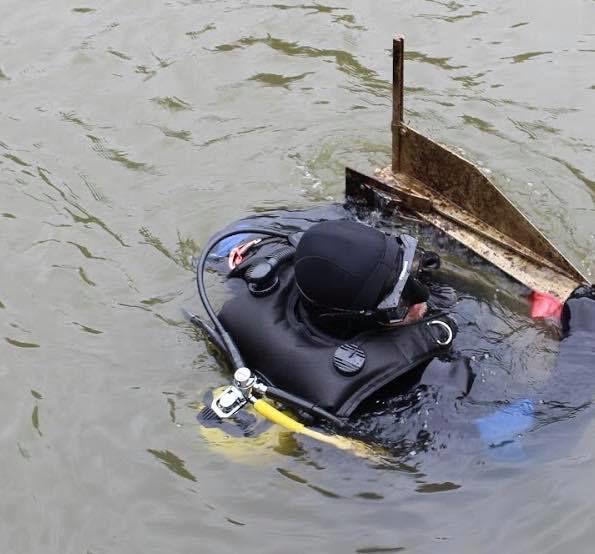 The dive served as more than just a chance to do good on the Lake: it also counts toward participants' Master Diver rating. Some of the participants had never dived in low-visibility water before. At depth, visibility is only about eight inches, Sartin said. There was also a Knowledge Development class before the dive that focused on what marine debris is, how to clean it up, and how to do so without causing more damage.
And, of course, it was an opportunity for scuba divers to have some fun, too. They all enjoyed lunch aboard the accompanying boats, prepared by Sartin's wife. And because 
For more information about the dive or participating in future Debris Clean-up Dives, contact Chris Heitman at 573-634-3483.
When your job is diving for sunken things in Lake of the Ozarks, you end up with a few stori…
LAKE OF THE OZARKS — On a Lake this big and this popular, strange things sometimes end up at…