LAKE OF THE OZARKS, Mo. — Heavy spring rains throughout the Midwest have kept Truman Lake flooded for much of the season, but the lake level is finally inching downward.
In a report on Wednesday, June 5, an Ameren representative confirmed Truman Lake crested on Tuesday night and the water level is beginning to slowly drop. Truman Dam, which impounds Truman Lake and feeds into Lake of the Ozarks, is currently discharging about 42,000 cubic feet per second (cfs). As of Wednesday at 11 a.m., Bagnell Dam was discharging 39,563 cfs and Lake of the Ozarks' water level was at 659.27 feet of elevation. Full pool is considered to be 660 feet. The dam's turbines are capable of passing approximately 40,000 cfs.
Ameren expects the Lake of the Ozarks level to raise slightly throughout the rest of the week, with an anticipated water level of 659.9 by Friday night. Bagnell Dam operators say they will likely open the dam's floodgates slightly over the weekend, to add an additional 10,000 cfs in discharge.
However, Ameren says it is working closely with the Army Corps of Engineers, which controls Truman Dam, and noted, "If Truman ramps up their discharge, we will have to ramp up to match Truman." Truman Lake has been enormously swollen—by more than 30 feet—as the lake, which was built for flood control, stored spring rains that would otherwise have been sent downstream into the already-flooded Missouri and Mississippi rivers.
Lisa Garrison and Rick Gladson are the new owners of Truman State Park Marina, which sits on Truman Lake, in Harry S. Truman State Park. They bought the marina last fall. Lisa said she had looked at the floodwater "high mark" measuring pole on the property, and the highest point was recorded in 1986. "I remember looking up and it and thinking. There is NO WAY," she wrote in a Facebook post. But the 2019 flooding has gone even higher; she's been making new marks on the pole.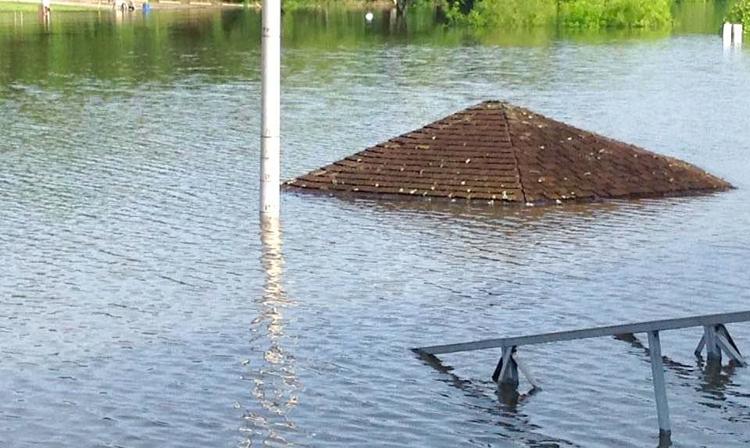 "We wanted to set a record, but not really like this," Lisa said.
Many Truman Lake marinas have lost power, and been forced to close. But Rick and Lisa's marina has managed to stay open. Dock ramps are submerged, so they shuttle boat rental customers from the land to the docks.
"Fishing is good right now," Lisa said; anglers are catching hybrids in particular.
She was relieved to hear Truman Lake had crested, and hoped the parking lot would be dry by July 4th weekend. "We're doing as much as we can to keep everybody going," she said, adding the community and their customers had been very supportive.
In a report on Tuesday, Ameren said the Missouri River was expected to crest this weekend or early next week, and once that happens, Truman and Bagnell dams will increase their output, to alleviate the massive flooding on Truman Lake.
The rain forecasted for central Missouri this weekend is now expected to stay mainly south of the Lake of the Ozarks area, the Ameren representative pointed out, and is not currently expected to impact the Lake level much, if at all. However, planned dam operations are contingent upon rainfall, he emphasized, saying "Higher rainfall could force higher discharges."