LAKE OF THE OZARKS, Mo. — Lake of the Ozarks will likely rise by 3–4 feet in the next week, reaching full pool before Memorial Day Weekend, according to Ameren, the utilities company that owns and operates the dam. Bagnell Dam is at max generation, but Truman Dam's floodgates are open, and that along with forecasted rains is expected to bring the Lake level up quickly.
On Wednesday, May 15, Ameren personnel reported Truman Lake—still taking inflows from flooding in the Midwest—was at 727.5 feet of elevation, which is about 21 feet above what is considered full pool: around 706 feet. Truman Dam's floodgates were opened on Wednesday morning, with a flow of about 50,000 cubic feet per second (cfs) passing into Lake of the Ozarks.
Truman Lake was built largely for flood control, and can fluctuate by 10 to 20 feet without causing widespread problems. By contrast, Lake of the Ozarks normally only fluctuates by about 6-7 feet throughout the year: full pool is between 659-660, and is generally maintained from Memorial Day through the fall, with Ameren drawing the Lake level down to around 654 in the winter, in preparation for spring rains. However, being over 20 feet high, the swollen Truman Lake has left the Truman State Park Marina surrounded by water.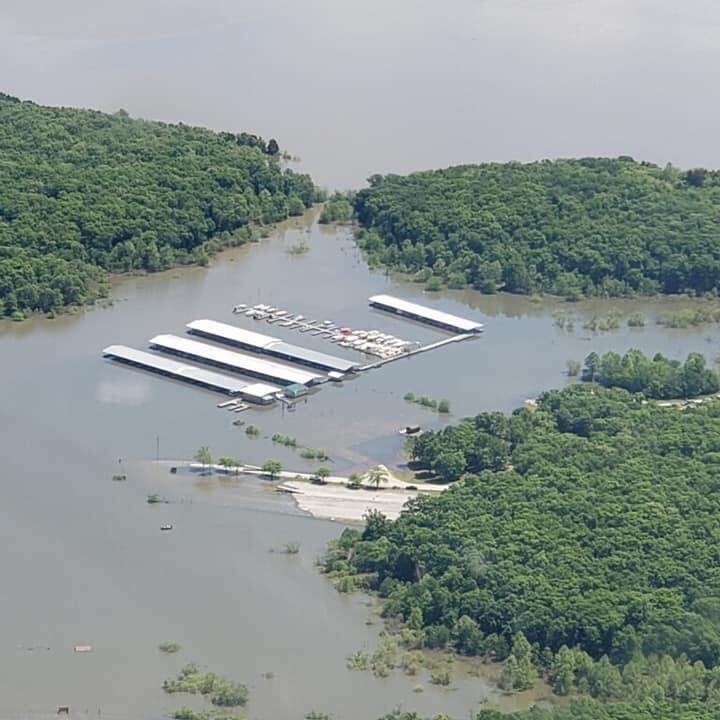 As of Wednesday evening, the Lake of the Ozarks water level was at 655.85, and the dam was at maximum or near-maximum generation, discharging about 38,300 cubic feet per second (cfs). Ameren reported they plan to continue at maximum generation, with the inflows from Truman Lake and possible rains expected to help raise the Lake level by as much as half a foot per day. Ameren expects the Lake level to reach 656.7 by Thursday night, 657.2 by Friday night, and 659 by early next week.
Heavy generation is expected over the next three days, with a target of 40,000 second-foot-days (the average water flow measured in a day) each day. Typically, Bagnell Dam is only able to consistently flow a maximum of about 40,000 cfs through the generators, and Ameren said the floodgates may be used, depending on rainfall, inflows into Truman Lake, and inflows into Lake of the Ozarks.