A 59-foot yacht slipped into the Lake of the Ozarks this week.
The 2018 57 Sunseeker Predator named Gaby was slowly trailered over Highway 54, onto Passover Road, and down the boat ramp at Formula Boats of Missouri, in Osage Beach, on Tuesday, April 16. Plywood encapsulated the cabin protected it from road hazards on the journey.
The boat was listed on multiple yacht-sales websites at the price of $1,489,000. It has three cabins, two heads, a 15.42-foot beam, and a 4-foot-3-inch draft. Its max cruising speed is 32 knots.
But whose is it, and will the boat be renamed? Well, one of the most famous boats on Lake of the Ozarks until 2018 was a 68-foot Sunseeker Predator named Miller Time. It made its maiden voyage at the Lake in 2014, and cruised these waters for four years, before being sold to the owner of a logging company, and renamed Timber. In October of 2018, Timber cruised down the Mississippi River to Florida. Rumor had it, a new Miller Time was on its way.
Predator's Maiden Voyage
There's a new Predator on the Lake of the Ozarks. On Thursday, May 1, the Millers, a local boating family, lowered "Miller Time," a 68-foot Predator, into the Lake.
Photography by Lake Shots
All photos under copyright protection. To purchase digital photos, e-mail ID number to lakeexpo@yahoo.com
So could this 59-foot Predator be the new Miller Time boat: same make and model, just 9 feet shorter than the last one? That's not clear, and personnel at Formula Boats—the preferred place on the Lake for huge boats to put in, thanks to their large ramp, crane, and proximity to Highway 54—weren't saying a word. In fact, they requested LakeExpo.com staff not take photos of the boat at the ramp.
But we got some of the yacht crossing over Highway 54, on Passover Road: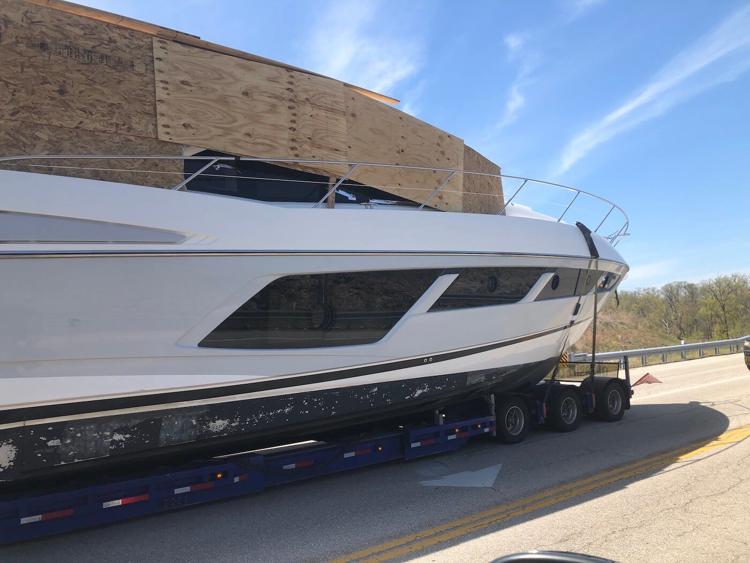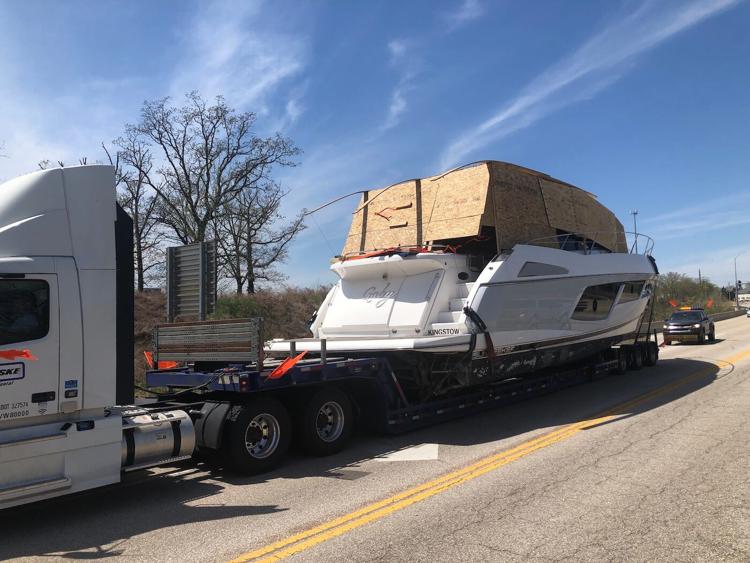 Maybe we'll (only figuratively) bump into Gaby—or whatever its new name will be—on the Lake this summer.
She measures 68.5 feet long and 16.5 feet wide, and if a boat could talk, The Commander coul…