"Be it known that I, Nikola Tesla, have invented certain new and useful improvements in methods of and apparatus for controlling from a distance the operation of the propelling engines, the steering apparatus, and other mechanism carrier by moving bodies or floating vessels…" — Record of the United States Patent Office, 1898.
With a U.S. Patent granted to Nikola Tesla well over one hundred years ago, the idea of an unmanned 'robot-boat' was brought to fruition long before the man-made Lake of the Ozarks was created. While awaiting approval for his initial radio patent submission, Tesla debuted a model boat before a crowd gathered at Madison Square Garden in 1898, where he had successfully convinced the masses that they were controlling the movements of the radio-controlled (RC) boat with voice commands. In actuality, Tesla had invented radio control as we know it today and he was piloting the boat himself from a nearby command room.
By 2020, RC boats and their enthusiasts alike have vastly grown in number, with model boats available in varying styles (Catamaran, V-Hull, Rigger, and Hydroplane) which mirror real-life vessels. Powered by either gasoline or electricity, current day 'robot-boats' can surpass speeds of more than 120 miles per hour and they have made national waves at the Lake of the Ozarks over the past decade.
The Lake of the Ozarks 'Mini Shootout,' which is held at Ha Ha Tonka Springs the weekend prior to the main Shootout event, began ten years ago with one man's purchase of a $500 radio-controlled boat off of eBay — and a dream.
"William McNeal of Kansas City had recently bought an RC boat and he had the idea of holding a small boat race at the Lake," said Lance Hedrick, a fellow collector of RC boats for more than four decades and volunteer/organizer at the Lake of the Ozarks' annual Mini Shootout. "William had contacted several Midwest Boat Party members with the idea in 2009," Hedrick continued, "and then approached Captain Ron Duggan at the Overland Park Boat Show with a plan for the event, and the Mini Shootout was born."
Hedrick has witnessed firsthand how this event has grown since the first race was held at Captain Ron's in 2010. Since that day, the event has moved locations to account for ideal water conditions, optimum speed capability, and the overall safety of spectators. Ha Ha Tonka Springs, Hedrick states, is an ideal location and hopefully the forever home of the Lake of the Ozarks Mini Shootout.
So what can be said for those who perceive remote-controlled boats as merely an individual's hobby rather than a crowd-amassing spectator sport?
"Some of the RC boats that can be seen at our event cannot be considered toys," Hedrick said. "They are expensive ($8,000.00+) machines with thousands upon thousands of dollars in necessary equipment to support them. With that being said, the drivers do not want to damage their investments and are always diligent in regards to safety."
Along with responsible RC boat operators, the Mini Shootout crew is also comprised of key volunteers who are on hand to police new participants while keeping an eye out for possible safety violations. Safety, Hedrick explains, is paramount for all parties involved.
As for his favorite part of organizing the Mini Shootout every year, Hedrick states that the enjoyment he witnesses from seasoned, lifelong hobbyists, unfamiliar spectators, and newer generations alike is what fulfills him the most.
"For me, it's the enjoyment of getting the newer, younger generation involved in a hobby that I have enjoyed for 40+ years," Hedrick explained. "I love to see the reactions from the spectators who are totally blown away as they see a 45-inch RC boat scream across the water at 100+ miles per hour, or to hear the comments made as viewers walk past the pits while asking the drivers, 'So how fast does your boat go — 120 miles per hour!' while the spectator turns to her husband and says, 'Honey, that little boat is faster than yours!'"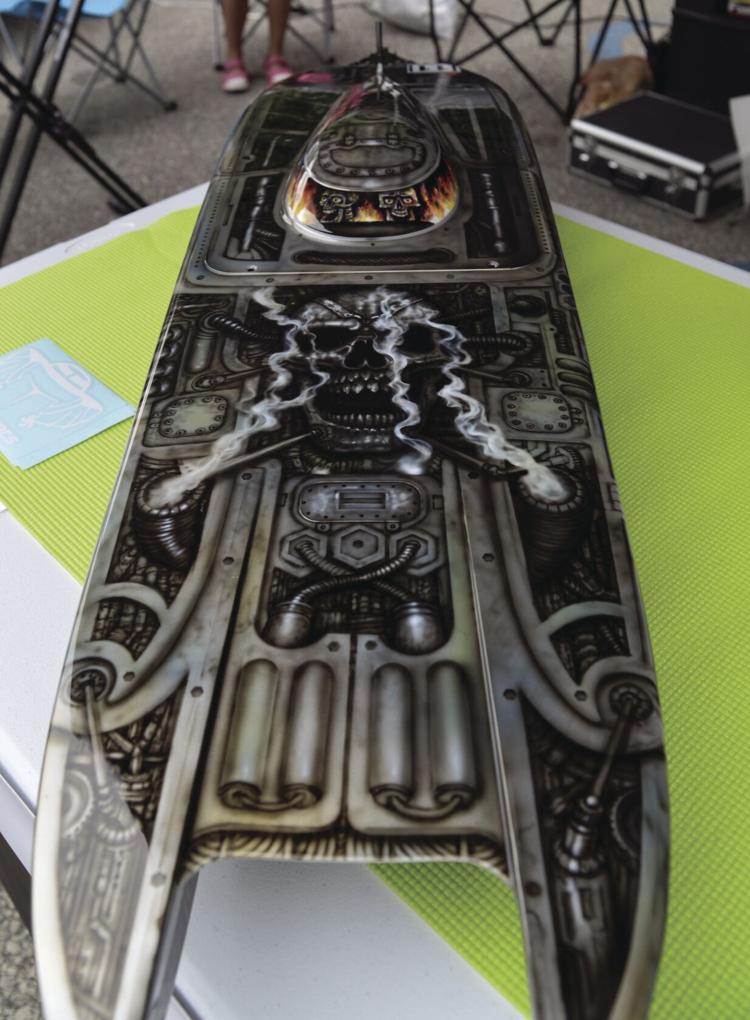 "For me," Hedrick continued, "it's when Dr. Mike Janssen and his father, a United States Marine Corps veteran of the Korean War, entered my pits to look at my RC boat dubbed, 'Marine One, Top Gun 2014,' and I handed him the boat (pictured). Seeing the enjoyment on his face made the event for me."
With participants from all across the country driving to Central Missouri to race their RC boats every August, Hedrick said in closing, "Each year, the word about the event gets passed on to more and more people. There are several racers from Michigan, two of whom are Top Gun Winners (individuals who have achieved the fastest recorded speed of the event), and others who have driven from Indiana, Louisiana, Washington, New Jersey, North Carolina, and Florida. We are growing every year in participants, volunteers, and spectators."
As the Lake of the Ozarks Area continues its ten-year tradition into its second decade, every year brings new faces and opportunities to those who are ready to pursue a new passion. With top recorded speeds of up to 124 miles per hour, the Mini Shootout has grown from 15-20 (mostly) local racers to 60-70 nationwide entries in recent years.
What's in store for the 11th annual Mini Shootout this August? We'll find out soon.