You could call Brad Rowland a boat racer. After all, his Tooned In 2 pontoon hits triple digit speeds at the Shootout, and year after year, his is the fastest 'toon at the race. But ask Rowland what he does, and he'll reply, "I'm a self-employed plumber. And we own a little campground here on Lake Shelbyville [in Sullivan, Ill.]." Text him with a request to email you a photo of the boat? "I'll have the wife [Shelly] do it. I'm a plumber. [thumbs up emoji]"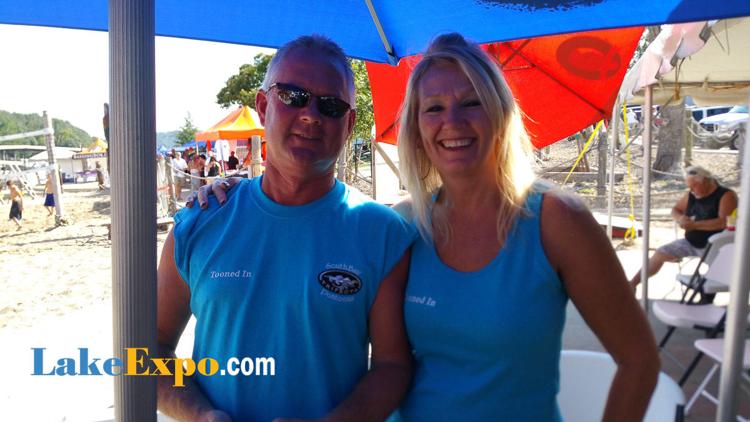 So Brad's a plumber, and he's always loved the water. Growing up in August, Ill., he enjoyed time on the Mississippi River. He was no stranger to speed, racing motorcycles and competing in demolition derbies. When his cousin bought a marina on Lake Shelbyville, he saw an opportunity. "We always loved the water, and anything's better than the muddy Mississippi!" he says with an amiable-sounding drawl. From that move came the plumbing company and campground on Lake Shelbyville. Then in 2003, his family bought a vacation home at Lake of the Ozarks on the 21 Mile Marker… just two coves down from Shooters 21. That was also the same year Rowland first ran his pontoon in the Shootout.
He'd been watching the Shootout for years, and he bought his first pontoon not to race, but to easily bring lots of family and friends on the water. "Back in the day, what was easier than a pontoon?" But as he watched Jim Dorris—the original pontoon racer—flying down the Shootout course, Brad had an idea. "I thought, you know what, if I buy this other pontoon… if I put twin-300s on there, then I could beat Mr. Dorris!" He's been squeezing more speed out of his boat every year since.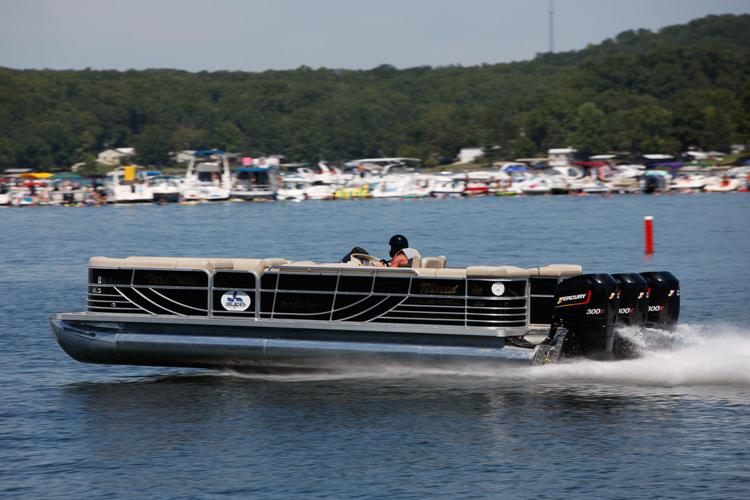 He dubbed his South Bay pontoon Tooned In, and in 2010, he upgraded the center tube and added a third outboard. Then in 2015, South Bay was so pleased with the publicity Brad's racing had brought their company, they built him a new boat to race, essentially for free. That's the boat he runs now: Tooned In 2. And that's the boat he hit 110 mph in, at the 2017 Shootout. "It's a rush!" he says. "It's just a rocket!" The boat is on a factory hull, but every year Rowland tries to figure out some new modification that can increase the speed. Those are top secret, he says. Tooned In 2's fame comes only from its Shootout speed: for the rest of the year, the boat sits in his shop, awaiting the only race that matters to Brad.
In the early years before the race moved to Captain Ron's, Rowland would just idle two coves over to Shooters 21, blaze down the Shootout track, and idle back home to a cheering crowd on the dock. The race is a bit further from his house now—at the 34 Mile Marker—but there's still "a big ole' wing ding" when he arrives back home. Rowland has developed a huge friends-and-family cheering section. "We got a herd of people," he chuckles.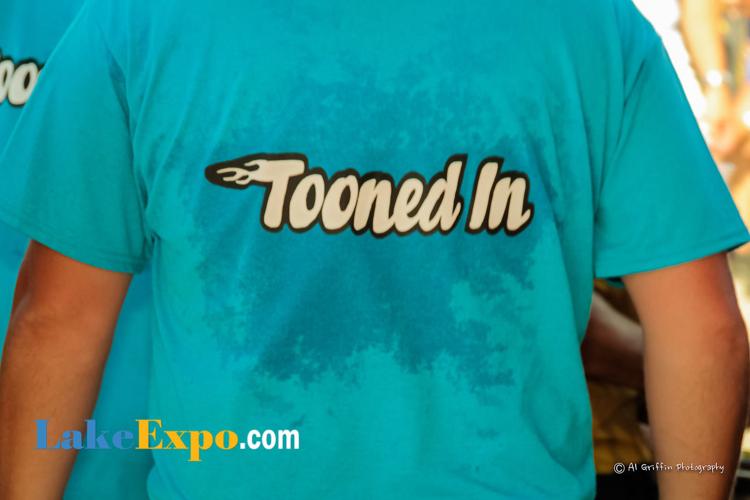 Every year they order 85 matching t-shirts for the Tooned In 2 crew. His father passed away several years ago, but Brad's mother, wife and two children are his biggest fans. "They all get their bling on!" he says enthusiastically. He also has a fleet of sponsors for Tooned In 2, that help Rowland keep posting huge speeds at Shootout. Among them:
-Forest River Marine - "they built me that boat"
-Big Thunder
-French Construction - "been with me ever since the first Shootout"
They all love Lake of the Ozarks, for several reasons. There's always something to do, Brad points out. "Great food everywhere!" — Redhead's Lakeside Grill on one side and Shorty Pants on the other. But the Lake is for the Rowlands what it is for so many who come year after year: a place to enjoy friends. Brad says they love simply hooking up with friends on their boats and finding a cove to pass the day in. The Rowlands are good friends with their neighbors around their own cove: relationships that grow stronger with each passing year. "We're not all from around there, but we all come down and have a good time!" he says.
So Brad Rowland is a plumber. A father, husband and son. A neighbor and friend. A Lake of the Ozarks homeowner. And yes, a boat racer… one who's not afraid to throw down the gauntlet and leave it in his boat wake: "Catch me if you can, I guess!"