What drives the success of the Lake of the Ozarks Shootout? The roar of powerboat race engines, the adrenalin rush, and the triple-digit speeds fuel the Shootout's popularity for sure. But more important than that for so many who help the event go, is a genuine aspiration to help people in the Lake of the Ozarks community.
In 2018, the Shootout raised a record total of $300,000 for eight Lake area fire departments and 32 local charities. The total amount raised for Shootout charities, organizations and fire departments since the Shootout moved to the Captain Ron's Bar and Grill and Ron Duggan took the helm is $1.4 million!"Last year was amazing!" Shootout Director Christy Janssen enthused. "Every record the Shootout had (except speed), we broke."
"We have fine-tuned some things to improve and make the Shootout even better this year," she added. "We hope to beat our fundraising record again!"
Volunteers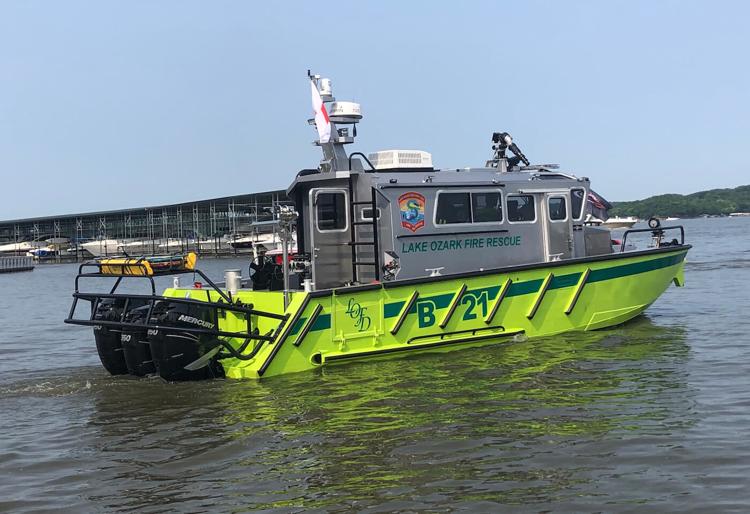 An amazing and integral part of the Shootout is the astronomical army of volunteers that give of their time, skills and resources to make the event a success. In 2018, a record 700 volunteers raised funds for the charity or fire district of their choice. This is a testimony of what can happen when people from many different walks of life unify together for good. 
The amount each volunteer raises for their charity or fire district is determined by the number of hours they volunteer, and the scope of the work they perform at the Shootout. For instance, volunteers that provide emergency medical services earn a higher amount per volunteer hour, compared to a volunteer that sells t-shirts.
Wonderland Camp
Thirty-two charities and eight fire departments benefitted from the 2018 Shootout. Wonderland Camp was added this year, raising the total to 33 charities that will be helped in 2019. Wonderland Camp is located on the Lake of the Ozarks in Eldon, Mo. Their mission is to provide a fun, educational and safe camp experience for children, teenagers and adults who have disabilities, and offer a respite from daily care-giving for their families. More than 1,000 campers enjoy this special camping experience each summer! 
Ivy Bend Food Pantry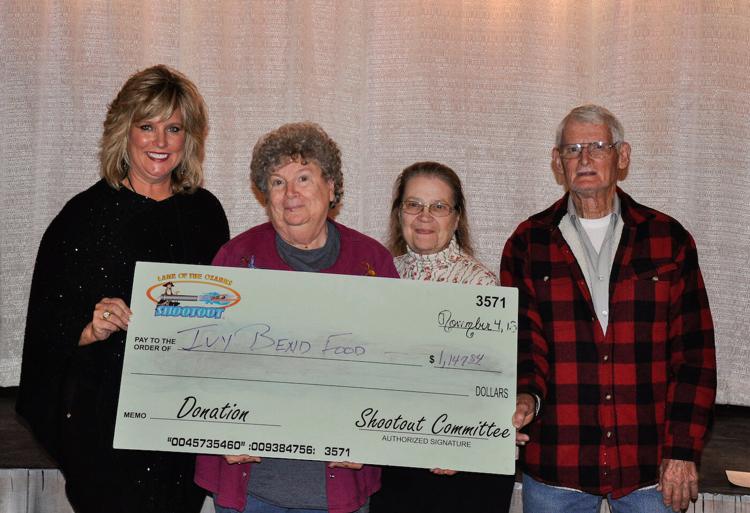 Shootout funds also ensure that some of the Lake's poorest children and elderly do not go to bed hungry in the remote area of Ivy Bend. The Ivy Bend Food Pantry is located in the poorest county in the state of Missouri, on the 58 Mile Marker of the Lake of the Ozarks. Along with monthly food giveaways and daily hot lunches for the elderly, the pantry also offers free education and health and counseling resources to equip recipients and their families with opportunities to change their lifestyle and ultimately improve their quality of life. 
An entire magazine would not be long enough to describe the special work done by each of the Shootout charities, so here's another highlight: 
The Sharing and Caring Foundation: providing beds for children without them. 
"I just cannot imagine a child having to sleep on the floor," Janssen said. "It breaks my heart." Since the foundation's program "Winkin' Blinkin' and Nod," started in March 2015, more than 270 beds have been provided to children in the Lake area. In 2018, the foundation also started the "Youth On Their Own" Program, where they provide funds to homeless youth (transient youth who often couch-surf, sleeping on the couches of friends or family, or less amiable connections) to be used for transportation to work and school.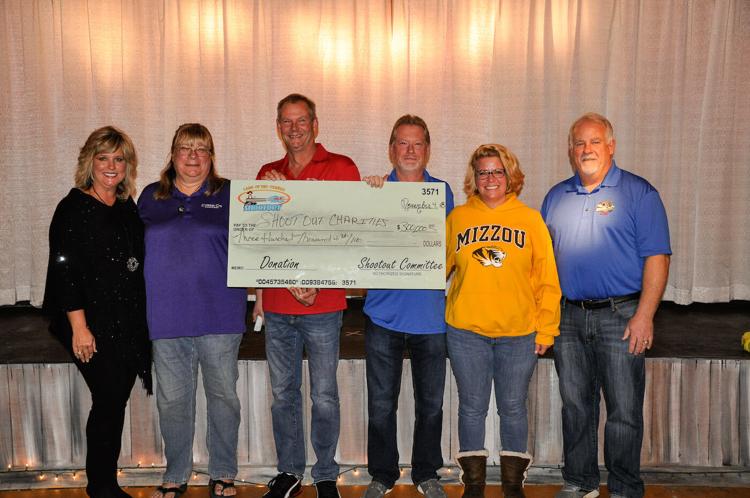 32 Shootout Charities & Beneficiaries
1. Lake of the Ozarks Idiots Club
2. Greenview Elks No. 2857 
3. C.L.E.A.R.
4. Ivy Bend Food Pantry
5. Kids Harbor
6. Lake West Chamber of Commerce
7. Camden County Sheriff Employee Association
8. E4C
9. Children's Learning Center
10. Ozark Coast Kiwanis
11. Forget Me Not Horse Rescue
12. Laurie/Sunrise Beach Rotary Club
13. The Boy Scouts
14 & 15 - Two 50/50-Drawing Boat Drop Recipients (learn more in the "Shootout On The Strip" section of the article Shootout Events: What To Know & When To Go)
16. Missouri Master Naturalist
17. The Shrine of St. Patrick's Catholic Church Knights of Columbus
18. Make A Wish 
19. Lake of the Ozarks Watershed Alliance
20. Citizens Against Domestic Violence
21. The Water Safety Council
22. Osage Community Elks Lodge No 2705
23. Sharing and Caring Foundation
24. Camdenton VFW
25. City of Lake Ozark
26. Camdenton Optimist Club
27. Lake Ozark Elks Club
28. Knights of Columbus - St. Patrick's
29. Lake of the Ozarks Soccer Association
30. The Jessica & Malachi Brazil Foundation
31. The Mariah Walters Scholarship
31. Dogwood Animal Shelter
32. Wonderland Camp
8 Fire Departments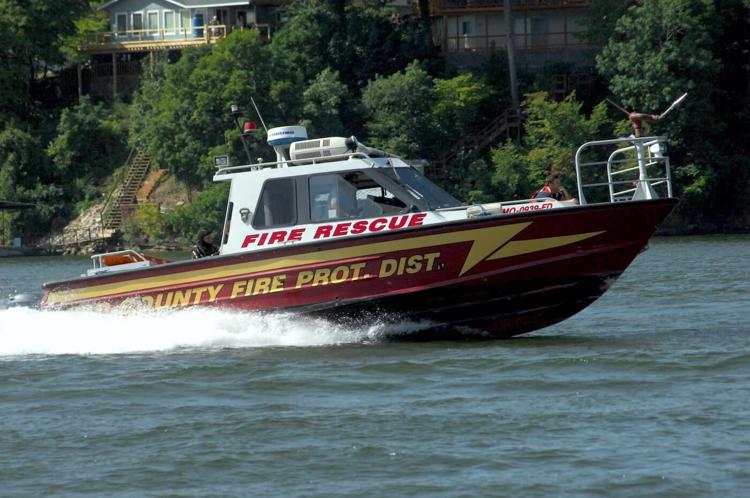 Along with the charities and benevolent organizations and agencies, the Shootout benefits eight lake area fire departments. The fire departments utilize the funds raised to purchase much-needed emergency apparatus and fire equipment to more effectively save lives and keep EMS personnel and the public safer. The eight fire departments that will benefit from the 2019 Shootout include:
1. Sunrise Beach
2. Lake Ozark
3. Coffman Bend
4. Rocky Mount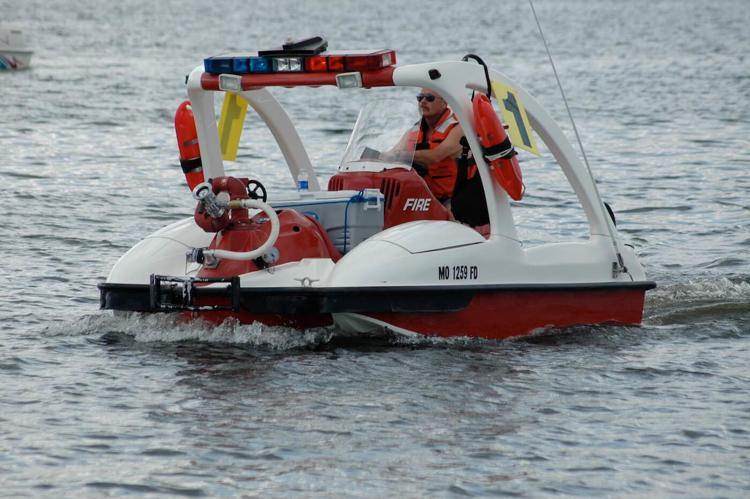 5. Osage Beach
6. Mid-County
7. Northwest Camden County
8. Volunteer Fire Association FF-14/FF-17 in Camden County 
Coffman Bend Fire Association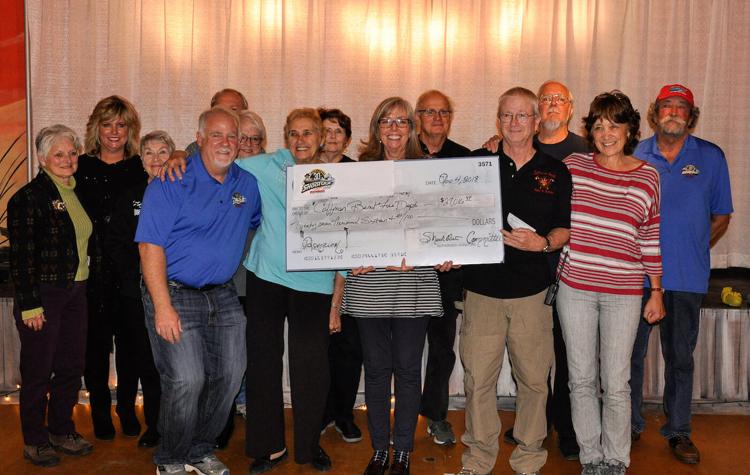 Due to the rural location of Coffman Bend, in an emergency medical situation, residents might have to wait a long time for an ambulance to arrive from Climax Springs. But a Coffman Bend firefighter could respond in a few minutes. 
Over the years, Coffman Bend Fire has used Shootout funds to purchase apparatus and life-saving equipment. "Without the funds from the Shootout, I don't know how we would even exist. It literally keeps us going and it has kept people alive in Coffman Bend. We are thankful," Women's Auxiliary President Margie Frazier said.  
The Shootout has also played an important role in the development of water rescue programs in almost every fire district at the Lake of the Ozarks. "The funds that have been raised over the past 28 years have allowed us to train people in water and dive rescue and to purchase rescue equipment and rescue boats," Osage Beach Fire Protection District Fire Chief Jeff Dorhauer said. "I know our life-saving, fire-fighting and water rescue capabilities would be far less than they are today, without the Shootout.
-
Sponsors cover overhead costs so that more of the money raised can go to the people who most desperately need it. In exchange, sponsors receive advertising on the radio, in newspapers, online, on Social Media, in the official Shootout Guide, on banners, on the Shootout and lake area websites and on the official Shootout hats and t-shirts. Sponsors also receive VIP parking, drink and meal tickets at the Shootout, dinner with racers and more. Besides the abundant promotional perks, prestigious Lake of the Ozarks Shootout sponsors get the satisfaction of helping so many people, in so many ways. For information about becoming an official 2020 Lake of the Ozarks Shootout sponsor call Christy Janssen at 217-779-2768.