Blistering speed was the name of the game on Saturday!
Powerboaters battled weather on the first day of the two-day Lake of the Ozarks Shootout, and early fan turnout was creating what looked to be the largest crowds the Shootout had ever drawn. Several hours of early-race rain delays thinned crowds somewhat, though plenty remained to enjoy the Lake's biggest and most popular event.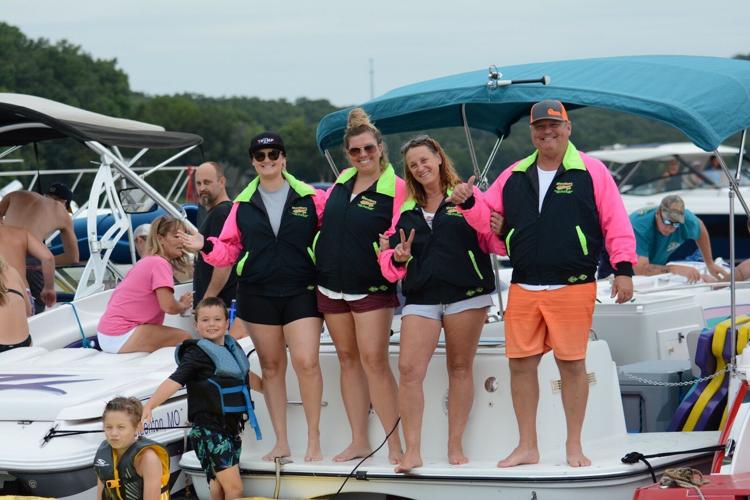 As for the boat racers, a little rain couldn't put a damper on some serious speed.
A Nerve-Wracking Run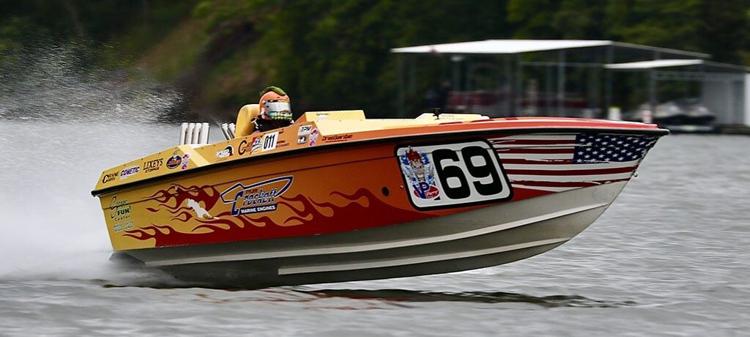 Before the weather delay, there were several noteworthy performances, starting with Tyler Crockett's hair-raising, 113-mph pass. Early in the run, the fan-favorite Michigander's 26-foot Joker powerboat equipped with a 3,000-hp alcohol-fueled entered a violent chine walk that didn't quit until Crockett cleared the end of the course...
A Class & Boat Record
With friendly rivals Dennis and Jason Parvey unable get their 43-foot Black Thunder ready in time, Jim Schultz and Mike Faucher are—for all intents and purposes—competing against themselves this weekend in the fastest V-bottom class. But that doesn't mean they took it easy during their morning run in Factory Billet, a 51-foot Outerlimits powered by flexible fuel 1,950/1,650-hp turbocharged Factory Billet engines with new water-jacketed turbochargers and electronic waste gates.
With 160 gallons of fuel on board, Schultz and Faucher boiled the Lake of the Ozarks waters with a 164-mph pass, which is a class-record for the Shootout and the boat itself.
"I don't know if people could see it from the shore or livestream, but ," said Schultz. "It was the roughest I've ever seen it...
Keep reading: Racer interviews at SpeedOnTheWater.com
American Ethanol Busts 200... Twice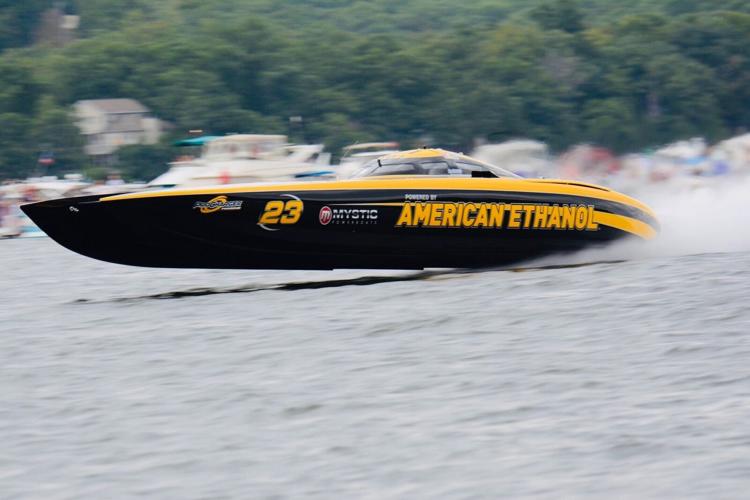 The current overall top speed belongs to, no surprise, the Onken Racing Team's American Ethanol Mystic Powerboats catamaran, the overall Top Gun-winning boat for five straight years. An hour into the day, throttleman John Cosker, the founder of Mystic in DeLand, Fla., and driver Tony Battiato, of team sponsor Big Thunder Marine in Lake Ozark, rattled off its best speed of the day 202 mph. The team followed up with a 201 mph run after the course re-opened, and Cosker isn't sure if the boat will run again tomorrow.
Liquid Damages
The only DCB Performance Boats catamaran to run Saturday—Liquid Damages, an M31 owned by Southern California's Jeff Clark and piloted by the El Cajon, Calif., company's own Tony Chiaramonte—notched a respectable 145-mph run before the two-hour rain delay. Chiaramonte, who has driven more DCB cats than anyone in the event's history, said he struggled to build momentum in the first part of the course...
Keep reading: Racer interviews at SpeedOnTheWater.com
Team Kansas
Brad Harrington, who is also a member of this year's Hall of Fame class, said he plans to run his Team Kansas 28-foot Sabre Cyclone V-bottom two or more times Sunday after making one pass today at 86 mph. Harrington, who has won his class for 14 straight years and ran 87 mph last year, said he's had a fantastic time at the Shootout this week...
2012's Stunning Top Gun Returns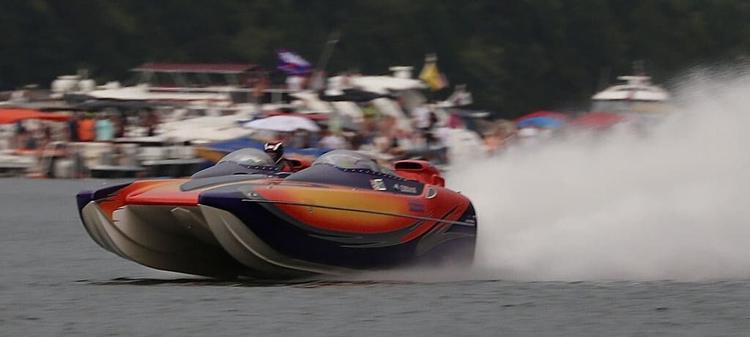 Last, but certainly not least, was first-time Shootout participant Cory Schmitz's performance in his Eliminator Boats 33 Daytona catamaran, Fatal Attraction. You might remember the name as it was the boat that Greg Olson ran 192 mph in 2012 to win the overall Top Gun title. Now repowered with 1,650-plus-hp engines from Todd's Performance Specialties in Lake Havasu City, Ariz., and resurfaced with a new interior from Eliminator Boats, the 33-footer was the third fastest boat of the day, sitting behind only American Ethanol and Factory Billet...