The Lake of the Ozarks' biggest on-water event, the Shootout, is set for Aug. 25–26: a great chance to get back on the water, even after summer is "technically" over! But the Shootout is so much more than the weekend races: in the days leading up to the event — and even afterward — Shootout events create opportunities for fun and socializing, while raising money for Shootout Charities. From a golf tournament to a treasure hunt to remote control boat races to a fall fishing tournament, here are a dozen ways to plan for Shootout fun…
WHEN: Sunday, Aug. 12, Registration & lunch at Noon, Shotgun start at 1 p.m.
WHERE: Old Kinderhook
4 Person Scramble
This year's annual Old Kinderhook Shootout Golf Tournament is a 4-person scramble held in one of the most beautiful courses in the Ozarks. On Sunday, August 12, at 1:00 p.m. players will test their skills and support local charities and fire departments while enjoying the gorgeous views of the Tom Weiskopf Signature Course. $125 enters you into this unique tournament that is fun, great for our community, and pays back! First prize winners have a chance to take home $600! Registration and lunch start at noon on Sunday. An awards party will follow the tournament.
The state-of-the-art Old Kinderhook course is a Par 71 at 6,855 yards, nestled among beautiful valleys at the Lake of the Ozarks. The course challenges serious golfers, yet plays on the friendly side. Old Kinderhook is renowned for unsurpassed drama from valleys, waterfalls, hills, trees and water hazards, in a beautiful Lake setting. The elevation changes and breathtaking views thrill at every hole. With mulligans available for purchase at $20 per team and insurance for sale at each par three, the day promises to be pleasurable and eventful.
Old Kinderhook Golf Course is located three miles west of Camdenton, on Highway 54. To play, call Pam Dever at 573-317-8126 or email pdever@lakemediaonline.com
-- 
WHEN: Saturday – Sunday, Aug. 18 – 19
Aug. 18: 9 a.m. – 5 p.m. 
Aug. 19: 9 a.m. – 12 p.m. Awards ceremony to follow
WHERE: Ha Ha Tonka State Park
The Mini-Shootout is where remote-control boats a fraction of the size of powerboats race at speeds in the triple digits! These races are thrilling to watch as the machines go faster than many of the big boats ten times their size at the Shootout! On August 18-19, Mini Shootout racers go head-to-head against each other, reaching speeds of over 100 mph in six different classes, with Splash Runs, Bracket Racing, Exhibition Races and Powder Puff Racing. Check out the schedule online for Class Runs, the Bounty Race and Top Gun racing times. Races are held in front of the Ha Ha Tonka Springs.
--
WHEN: Monday, Aug. 20
5 – 6 p.m. - Social Hour
6 – 6:15 p.m. - Explanation of Rules
6:15 – 7:00 p.m. - Treasure Hunt
7:00 – 8:00 p.m. - Check out & get your loot
8:00 p.m. - Presentation of Grand Prize
WHERE: Captain Ron's
COST: $20/person
The Great Shootout Treasure Hunt puts parents and kids side-by-side, digging in the sand for buried treasure. And these treasures aren't just throwaway trinkets: they include gift certificates to local businesses, plenty of swag, and the larger prizes range from overnight stays at hotels, golf packages, and floating water mats! Most pirates leave the treasure hunt with more value in their loot bag than they paid to get into the event – and everyone gets a T-shirt. Not to mention the invaluable memories of family and friends gathering together frantically digging through the sand… like Christmas morning on the beach! "It's one of those special events where the adults and the kids can really all enjoy doing the same thing, together," said Brent Simpson, Publisher of LakeExpo.com and event sponsor for the last six years. Up for grabs is also the grand prize: a new Hammerhead Mudhead Off-Road Go Kart, generously donated by Surdyke Yamaha. Tickets are $20 and can be purchased through Kid's Harbor and the Idiot's Club. For more information, please call (217) 779-2768. All ticket holders enjoy a social hour, treasure hunt, prizes and a free t-shirt.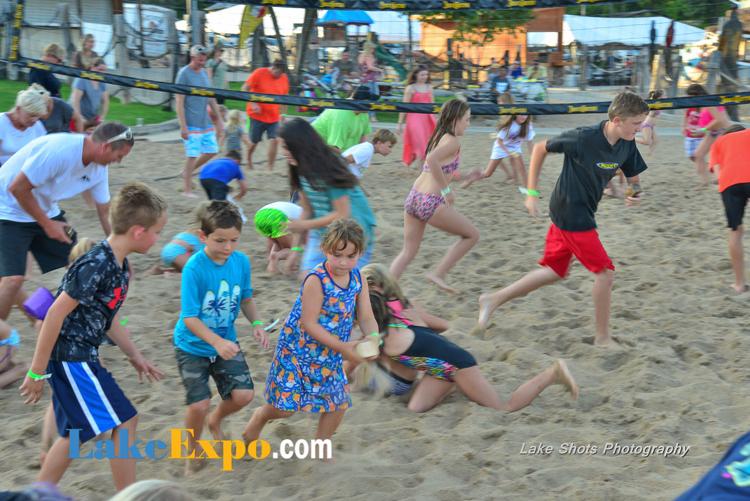 --
WHEN: Tuesday, Aug. 21, Noon to 8 p.m.
WHERE: Captain Ron's
-- 
WHEN: Tuesday, Aug. 21
6 p.m. – 7 p.m. – Social Hour
7 p.m. – Dinner Served
8:30 p.m. – Induction of the Shootout Hall of Fame Class of 2018
WHERE: Stables at Cannon Smoked Saloon
COST: $35/person or $350/table (table purchase includes a commemorative bottle of official Shootout Whiskey)
The Lake of the Ozarks Shootout Hall of Fame Dinner is a special time to honor those who have shaped the Shootout. The dinner is being held on August 21, 2018 at the Stables at Cannon Smoked Saloon in Sunrise Beach. A social hour will get the event started at 6 p.m., with dinner served at 7 p.m. and new inductees honored at 8:30 p.m. Shootout Top Guns and past dignitaries will honor and welcome the new inductees into the Shootout Hall of Fame. Tickets for the dinner are $35 each or $350 for a table, which includes a commemorative bottle of the official Shootout Whiskey. Everyone is welcome to come celebrate 30 years of Shootout and to honor the inductees. Contact Christy Janssen at 217-779-2768 or shootoutcj@gmail.com.
--
WHEN: Wednesday, Aug. 22 @ 5 p.m.
WHERE: Bagnell Dam Strip
Wednesday, August 22 at 5 p.m. a one-of-a-kind event descends on the Bagnell Dam Strip as hundreds of race boats, teams and fans gather for a huge meet & greet event. The Waves & Wheels Shootout on the Strip is the largest out of water boating event at the Lake of the Ozarks. It allows the Lake community and race fans to connect on the Bagnell Dam Strip and "Oooh" and "Ahhh" over these powerful machines and the equally impressive trucks that haul them. While you're there, be sure to stop at Top Gun Plaza, next to Tucker's Shuckers. American Ethanol, the Shootout 2017 Top Gun, will be there, along with the entire crew. The American Ethanol team has raised the Meet & Greet experience to the next level for fans! The entire team, from mechanics to drivers, will be with the boat taking pictures with fans, signing autographs and handing out memorabilia. Top Gun Plaza will also host vendors, kids activities and lots of food. While walking the Bagnell Dam Strip fans can also see a dynamic display of race boats from Shootout title sponsor Performance Boat Center as well as an impressive sound and light display presented by the event sponsor "Waves & Wheels."
Take A Peek Inside These Powerboats: Shootout Meet & Greet On The Strip [PHOTOS]
It's a chance to mingle with boat racers and ogle their high-performance machines.
The Shootout Meet & Greet on the Bagnell Dam Strip brings powerboat racers and fans together, just a few days before the biggest boat race in the Midwest.
Check out Meet & Greet photos below. Photography by Lake Shots (Our photos are copyright protected, but if you see one you're in and you want a high-res version, email us at lakeexpo@yahoo.com and we'll shoot you a price!)