Every August the powerboating community comes together for the Lake of the Ozarks Shootout: a race that brings major speed and fun for boaters, and raises big bucks for local nonprofits and fire districts. In 2018, the Lake's most prolific event and local fundraiser had its most successful year ever under the leadership of new director Christy Janssen.
The Shootout board was hoping to raise $250,000 for local charities and fire districts this year. On Sunday evening, Nov. 4 at The Stables in Sunrise Beach, organizers announced they had surpassed that goal, raising a total of $300,000.
More than 800 volunteers donated more than 2,000 hours of their time to make the annual Lake of the Ozarks Shootout a success. Their magnanimity will allow local charities to supply beds for children without them, grant wish experiences to local kids with serious medical conditions and support local fire districts in their life-saving efforts.  
There were more than a few moments that brought tears to the eyes of givers and receivers on Sunday. Tiffany Maasen presented Ron and Nicole Duggan with a surprise $1,000 donation to the Mariah Walters Memorial Fund in memory of Ron and Nicole's daughter who passed away just a week earlier, and whose celebration of life gathering had been held just the night before.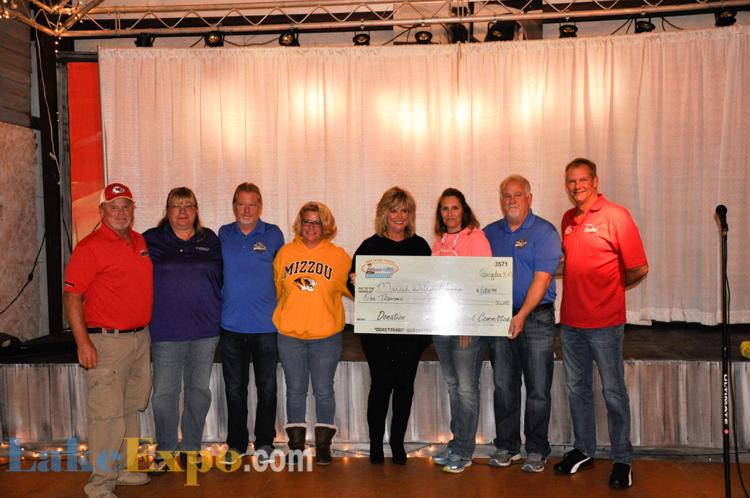 In another touching moment — reflective of a tragedy this year that struck the Weyer and Brazil families, the Shootout family, and the Lake community as a whole — the Shootout Committee donated $5,000 to the Jessica & Malachi Brazil Foundation. Jessica and her son passed away earlier this year in a car accident. The foundation has been created by Connie and Dave Weyer and close friends to support a mission that binds the hearts of Jessica and Malachi. Jessica fought tirelessly to find ways to make her children's lives as "normal" as possible and provide them every opportunity. Funding from the foundation will provide non-traditional scholarships to foster and adopted kids in the Lake area. The scholarships will help these young adults transition into post high-school education.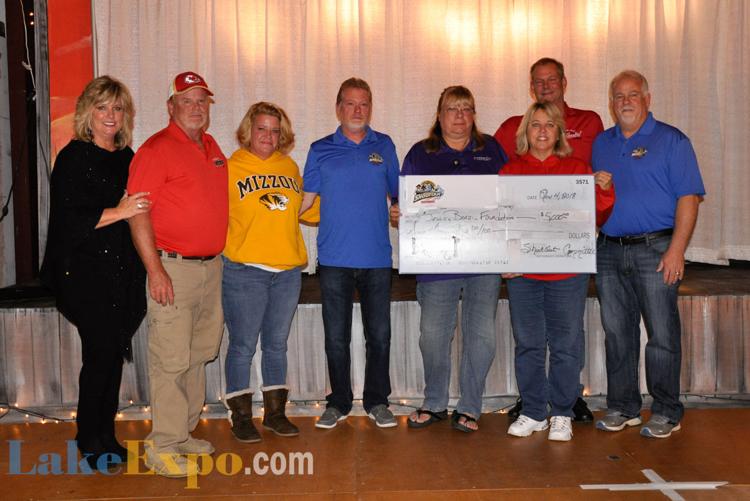 New charities made a big splash supporting the Shootout this year. Idiots club volunteers donated their time generously at a number of events, including LakeExpo.com's Great Treasure Hunt at Captain Ron's. Children's Learning Center was also one of the four organizations that helped make the Super Cat 4 Kids Auction a success. Along with Make-A-Wish Missouri, Sharing & Caring, and Kids' Harbor, the live auction grossed $163,000.  More than 28 fire departments and charities were awarded donations from the money raised during the 2018 Shootout. The amount donated to each charity is determined by the number of hours they volunteer, fundraising from individual events, and direct donations.
Greenview Elks: 6,377.87
Knights of Columbus: $11,565.62
Laurie Elks Osage Lodge #2705: $17,829.27
Rocky Mount Fire District: $506.40
Mariah Walters Memorial: $1,000.00
Ivy Bend Food Pantry: $1,147.84
Boy Scouts: $1,287.12
Kiwanis: $1,846.25
Water Safety Council $2,498.24
Missouri Naturalists: $2,954.00
CADV: $3,316.92
Osage Beach Fire District: $3,722.04
LOSA: $3,954
Camdenton Optimists: $4,272.51
Jessica Brazil & Malachi Foundation: $5,000
Forget Me Not Horse Rescue: $4,912
Rotary Club: $5,314.27
DD & FF Fire: $6,403.85
Lake West Chamber: $12,043.88
Kids' Harbor: $12,225
Mid-County Fire District: $13,786.60
NorthWest Fire District: $14,270.18
Children's Learning Center: $16,143
L.O.W.A: $15,086.06
Idiots Club: $19,383.51
Sharing & Caring: $19,550.36
Coffman Bend Fire Department: $27,016.44
Make-A-Wish: $39,714.43