Shootout 2019! Performance Boat Center Champions World's Fastest Boat Race For Charity
by Nathan Bechtold/LakeExpo.com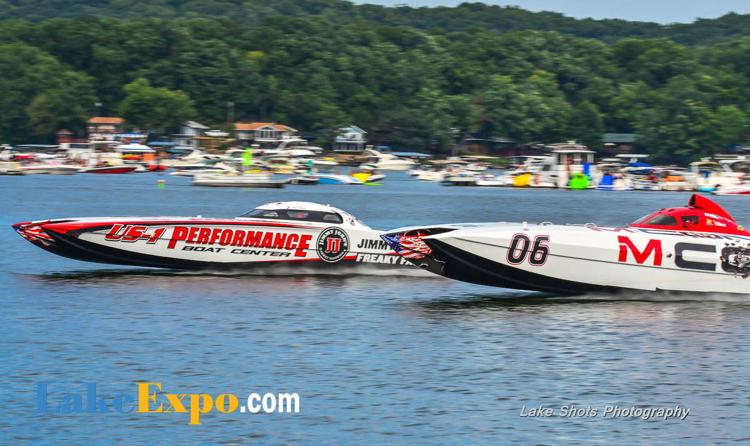 LAKE OF THE OZARKS, Mo. — The Lake of the Ozarks' premier boat race, now in its 31st year, will again be sponsored by Performance Boat Center.
The Lake of the Ozarks boating brand has become nearly synonymous with the go-fast scene, having sponsored the Shootout since 2015 and hosting an increasing number of powerboating events, meet-ups, and poker runs/fun runs throughout the year.
"It's a huge event for Performance Boat Center, Lake of the Ozarks, and all of the charities," PBC co-owner Brett Manire said. The Shootout drew nearly 100 racers in 2018, and raised well over $300,000 for Lake area charities, nonprofits, and fire districts. "It's pretty awesome to watch the Shootout organization give back to all those charities," Manire added.
"I hear about the Shootout wherever we go for poker runs and racing all over the country," he continued. "It's a great way for Lake of the Ozarks to shine and show off… and [for PBC to] show our facilities and our capabilities."
The Shootout is an annual win for Lake of the Ozarks boaters and businesses, and Manire said it's an absolutely crucial part of Performance Boat Center's business model. "We have to be part of something like that," he said. "We're a national business… half of our business is done in other states. That's why the Shootout is so important to us."
Manire said on Jan. 3 he had received several phone calls that day, for people already seeking boat slips and planning for the August race — people come from as far as Florida, New York, and California to enjoy the event. "There's so much to do that week, it brings in a lot of out-of-town people… from every walk of life and every boating community," he said.