Of the 84 boats that raced in the 2018 Shootout, 13 of them were pontoons, representing five different manufacturers. Top speeds fell across a broad range—from 54 mph to 106 mph—but the message was clear: these boats ain't just for putterin'.
Brad Rowland, who holds the top speed for a pontoon at Shootout with his 114 mph run in 2016, showed up to defend his title and good name. He met with some surprisingly serious competition.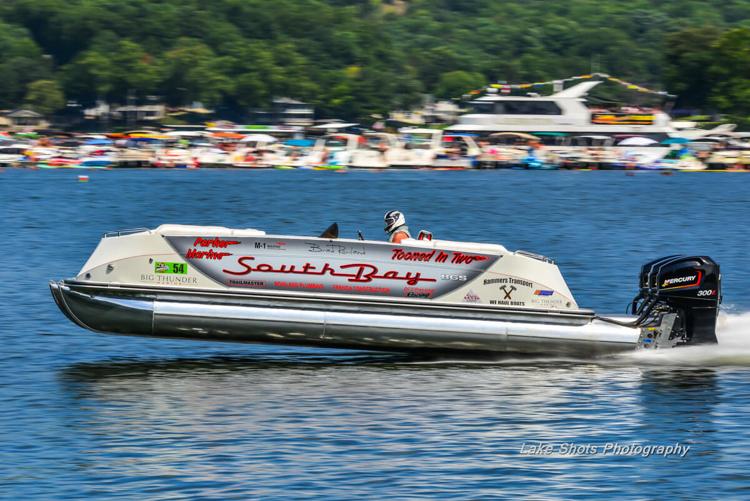 Rowland's South Bay named Tooned In Two is one-of-a-kind. He's strapped three Mercury 300s on the back of the boat's triple logs, and the boat almost literally flies down the race course. He also customizes the boat in some special ways he's not particularly interested in disclosing. But he said his 2018 Shootout competitor, King Floater, a Playcraft driven by the owner of Playcraft Boats and famous pontoon racer Jim Dorris, packed a formidable wallop, too. "That thing's got so much horsepower… sheesh! Crazy," he said. He's right. King Floater was sporting twin, Whipple-supercharged LS7 V-8 small-block engines: the engines they put in Corvettes. Something like 1,200 hp apiece.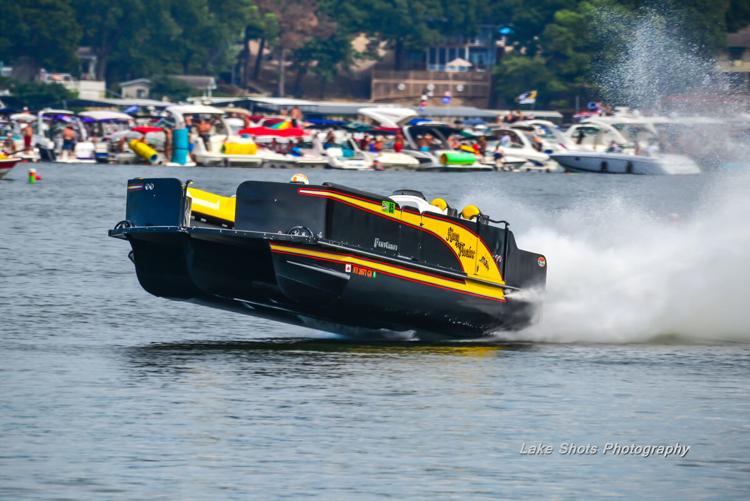 And King Floater poured on the speed, clocking 98 mph at the finish line and tying Rowland's first run. Back on land, Rowland's family gathered around the jumbo-tron, in matching Tooned In Two t-shirts, eating up the suspense.
Ever the competitor (and unhappy with missing triple digits by 2 mph), Rowland went back out and hit a clean 106 mph. That landed him the "Top 'Toon" award for 2018, and Rowland says he was happy about it, but he also welcomes some healthy competition. The fast pontoons have become quite the crowd-pleasers, too. "A lot of people come to watch them 'idiots in a pontoon,'" he laughs.
Dorris enjoyed running the highly customized King Floater against the highly customized Tooned In Two, and he points out it was a custom Playcraft driven by Ken Gowdy that was "the first tritoon to hit triple digits" at Shootout, in 2010. Gowdy sold his boat, though, and King Floater is spending the summer in New York, where its owner, Jim Denoyner, is enjoying it recreationally. So unfortunately, Shootout fans won't see it this year. But Denoyner has plans to rework the engine during the winter, according to Dorris, and we may get to see a King Floater vs Tooned In Two rematch in 2020.
Dorris was really the first person to bring pontoons into the racing scene. And while he praises the custom crafts that hit triple digits, he points out that the other Playcraft pontoons his family ran in the 2018 Shootout were "production boats… where anyone can buy them, and we sell them to the public." In other words, the single-engine 2016 26-foot Playcraft XTREME 301 he ran, and the single-engine 2018 26-foot Playcraft 78A his wife Carolyn ran—both of which hit 79 mph—can be bought, just like that, from Playcraft.
"We're running a boat that you could sell to the public," he said plainly, adding, "Our boats do hold up to the Lake of the Ozarks' conditions." He acknowledges anybody can put big engines on the back of a pontoon, but that doesn't mean the hull will hold up to the water conditions at 50, 60, and 70 mph. "When we build a boat," he said, "we build it with the durability that it takes for the horsepower that we put on the boat."
Playcraft put five boats on the water, including King Floater, but Sport World Boat Center—located across the highway from Captain Ron's—showed up in a big way, too, with four Landau pontoons. "They're not a racing boat," said Ronda Burris (though the pontoons aren't sluggish: they all hit speeds in the mid-50s). She owns Sport World with her husband Gary, and they ran in the Shootout to introduce more people to the brand. "We mainly run them through for show, and to get the Landau name out there too. A lot of people can't even pronounce the name right! They call it 'Lan-DOO,'" she said, laughing. (It's pronounced "LAN-dow.") Landau puts two-stroke Evinrude engines on their pontoons, which Ronda says are a great fit for customers who want durability, low-maintenance, and plenty of power.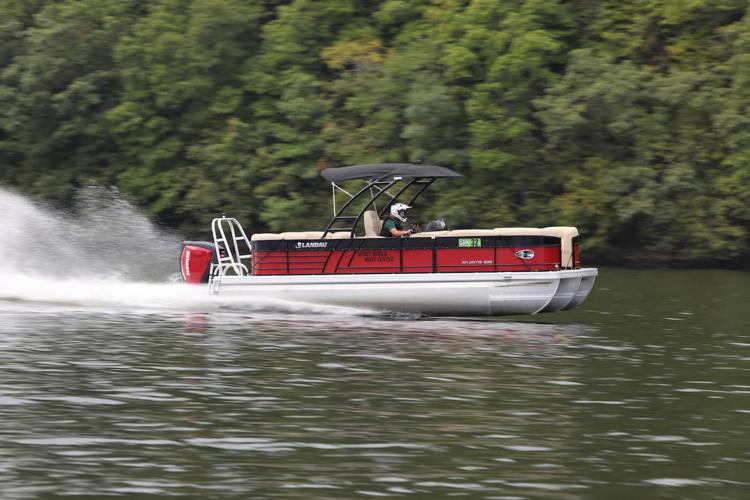 "A 200-horse Evinrude will outrun a 300-horse four-stroke of another brand," she said, adding, "and the fuel mileage is about 30 percent better." The two-stroke Evinrudes also don't require any maintenance for five years, she said, which is a huge selling point for many customers who just want to get on the boat and enjoy it.
Gary and Ronda have owned Sport World Boat Center for 22 years, and they sell Ranger fishing boats along with Landau pontoons. Ever since they started selling Landau, Gary has been running a pontoon in the Shootout, but he said one year, one of his sons decided to try to beat Dad. The other two sons liked the idea, so in 2018, Shootout spectators saw Gary and his sons Alec, Lance, and Luke all running Landau pontoons.
Whether it's Playcraft, South Bay, Landau, or another pontoon brand, watch for the "everyman's boat" to post speeds your grandfather's pontoon would never have dreamed of, at this year's Shootout!