With some boats at the Shootout, if you blink, you'll nearly miss their blazing-fast, 3/4-mile run. Not so with Calypso, the first-ever electric boat run in the Shootout, in 2018. With Randy Vance at the helm, driving a bemusing 25 mph across the finish line, the 23-ft. center console fishing boat with a Torqeedo Deep Blue 50kW electric outboard engine made Shootout history in 2018. The 25 mph run made Calypso far and away the slowest boat at the Lake of the Ozarks Shootout. But it might have been a contender for "most interesting."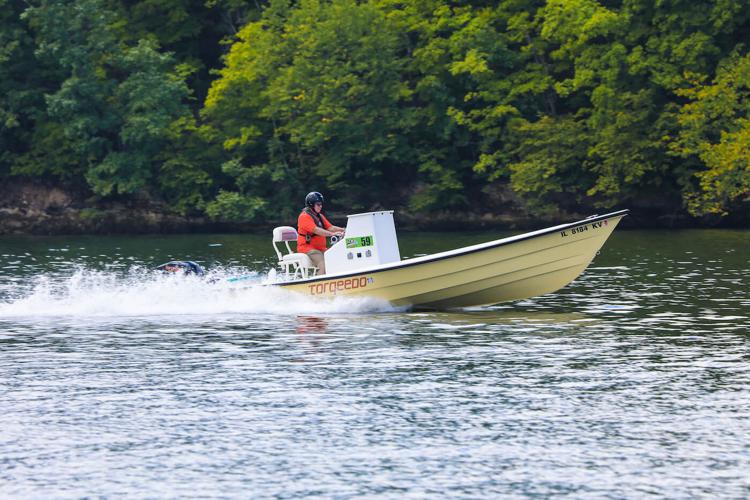 The Torqeedo's power comes from a single 30.5 kW battery (lithium ion) like the ones used in BMW automobiles. The run earned Vance, Editor-at-Large at Boating Magazine, the top gun trophy in the electric boat class! "We were proud to be the first," Vance said.
The Lake of the Ozarks Shootout is open to everything from PWCs to pontoons to v-bottoms and catamarans to compete for a coveted Lake of the Ozarks Shootout trophy. The fastest boat in Shootout history was a 50-foot Mystic catamaran, Spirit of Qatar, which in 2014 hit 244 mph: nearly 10 times as fast as Calypso!
There were some tongue-in-cheek remarks made by the announcers, and chuckles could be heard up and down the race course as Vance advanced, at about 1/4th of the speed of the average race boat, to the Shootout finish line. "Everyone was very gracious, and I was able to smile and wave at the fans for a full two minutes!" Vance said.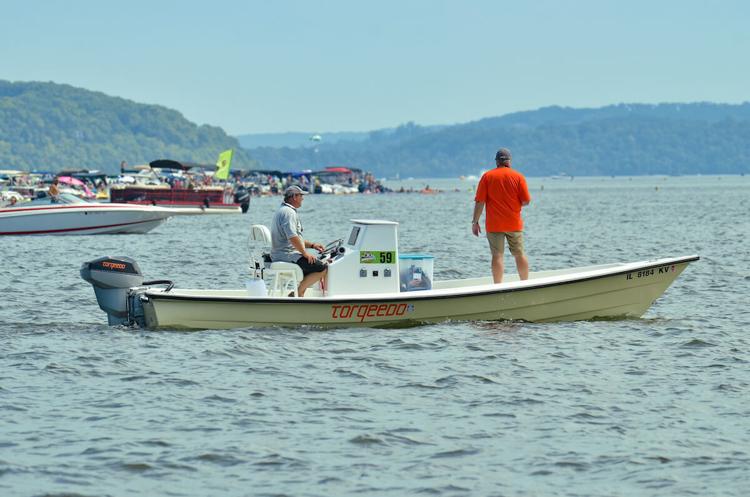 An expert on everything boating, and a former Lake of the Ozarks fishing guide, Vance served as an Osage Beach City Alderman from 1989 to 1991 before moving to Winter Park, Fla. in 2000. He says business and friends bring him back to the Lake at least once a year. "Missouri and Arkansas are boat-building hotspots with iconic brands like Lowe, Playcraft, Charger, Ranger, Tracker and more," he pointed out.
Electrifying the Shootout
"Randy invited us to get involved in the Shootout, and I loved the idea," said Steve Trkla, president and general manager of Torqeedo, Inc. "Everybody loves to race, whether it's on foot or in a vehicle, just for the thrill of it. The electric revolution is shaping the automotive industry, the motorcycle industry and the marine industry – so why shouldn't the world leader in electric boating enter one of the world's most iconic boat races?"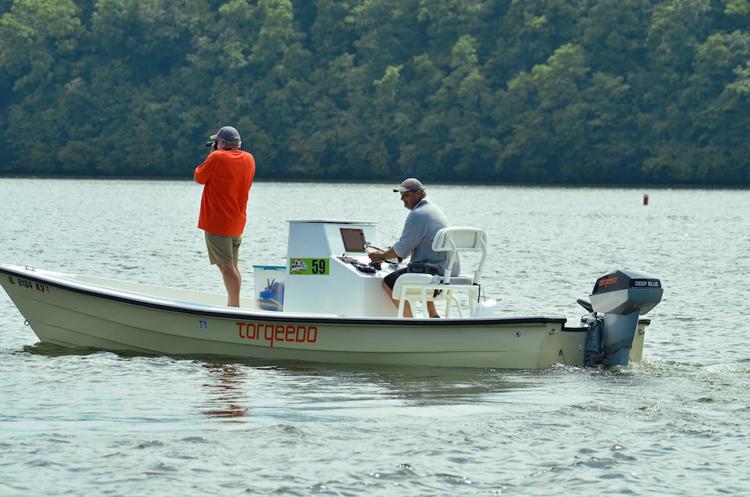 Torqeedo started out in 2005, building small electric outboards for dinghies, tenders and small sailboats. But advances in technology—especially battery tech—has allowed the company to build larger motors. Torqeedo recently launched a new 100 kW inboard motor, twice as powerful as the outboard version that powered last year's Shootout run.
These powerful motors allow larger and faster boats to take advantage of the benefits of electric motors, especially commercial vessels. Water taxis, passenger ferries, pump-out boats and tour boats can save operating expenses and give customers a quiet and comfortable ride by switching to electric propulsion.
Torqeedo was purchased in 2017 by DEUTZ of Cologne, Germany, a world-renowned manufacturer of diesel engines for agriculture, mining, construction and other off-highway uses. "They bought Torqeedo for the technology," Trkla said. "DEUTZ recognized that air pollution and climate concerns are driving companies to find greener solutions. They want to not only be prepared for the electric and hybrid revolution, they want to help lead it in the off-highway and heavy equipment markets."
The Secret Weapon: The Battery
Torqeedo came out with the first Deep Blue high-voltage drive system in 2012. The agreement with BMW brought the high-capacity lithium-ion batteries from the company's i3 and i8 cars to the marine industry and boosted the Deep Blue system's range and runtime. Torqeedo adds cooling, waterproofing and shock mitigation to adapt the batteries to the rigors of the marine environment and offers a 9-year limited capacity warranty.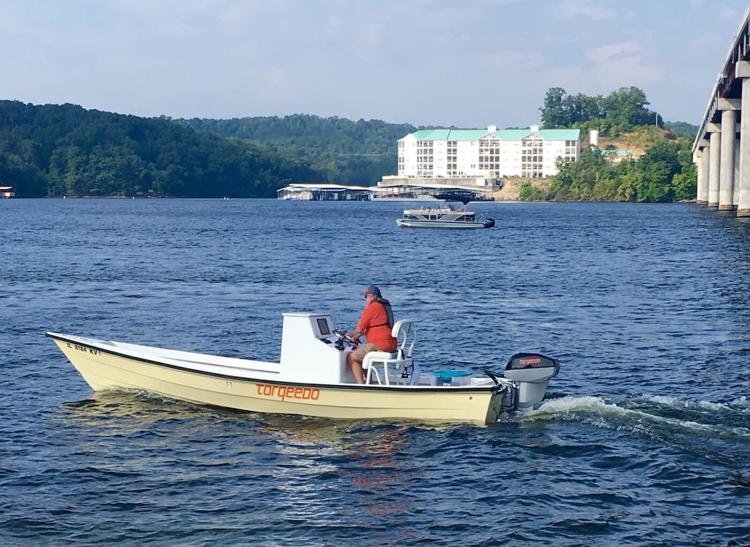 "Most major automakers, including BMW, have announced that they will be phasing out combustion engine cars within the next five or six years. This is where technology is going and the auto industry is heavily investing in battery advancements," Trkla said. "Working with BMW allows Torqeedo to offer a superior product with a superior warranty."
Trkla personally customized the Calypso, creating a battery compartment for the genius BMW battery. The motor was reprogrammed to generate an equivalent of 80 hp which can run 40 minutes at full throttle or eight hours at slow speed. 
Why Electric?
Sure, an electric boat is more environmentally friendly, but Trkla says that is only part of the appeal.
"The boats in the Shootout are the peak of high performance, but there are so many combustion-powered boats that hardly ever reach half-throttle," Trkla said. "An electric drive fits the way a lot of people actually boat. It is quieter, cleaner and easier. You can have a normal conversation and enjoy the sounds of nature. There's no more leaking, stinking jerrycans of gasoline, oil changes or driving around looking for ethanol-free fuel. All you have to do is plug it in at night and the next day your boat is fully charged and ready to go." 
Brushless digital motor technology means there are fewer moving parts than in a combustion engine, which equals fewer repairs. The electric drive system also requires far less maintenance than comparable drive systems that use fossil fuel and oil. 
"Over the years, the price has gone down too," Trkla enthused. "You can drive a 24 ft. Apex Quest Pontoon Boat with a Deep Blue 50 kW outboard system home for about $80,000." 
The 80 horsepower-equivalent Deep Blue outboard system in the Apex uses GPS technology to measure speed and calculates remaining range in real-time, giving owners the peace of mind that they always have enough power to enjoy their day on the water.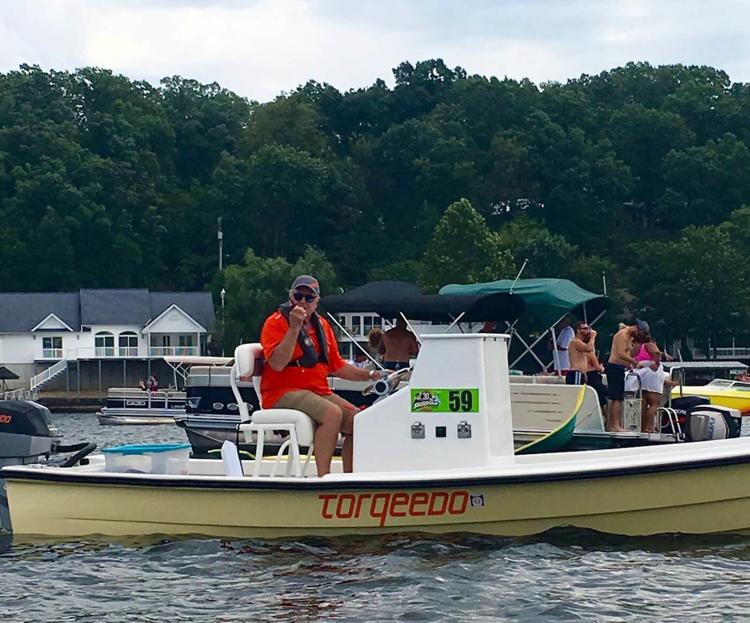 Faster In 2019 
"We are partnering with Canadian Electric Boat Company to build a new boat from scratch to run in the 2019 Shootout," Trkla said. "It will be our fastest boat yet." 
Vance will attempt to best his own record in the 2019 25 ft. Canadian Electric Phoenix center console with an 8.8 ft. beam. The driving force will be twin Deep Blue 50 kW motors and the team estimates the boat will run 35 to 38 mph.
"I am thankful to be a part of the Shootout," Trkla said. "My overall intent is to take our boat to the Shootout and say, 'electric boats are not the future anymore…the future is here, now.'"
"There are some fast electric boats out there," Vance pointed out. "I hope they will come and give us some competition."