LAKE OF THE OZARKS, Mo. — An angler won $100,000 on Lake of the Ozarks last weekend, for catching the biggest fish of the weekend at the Big Bass Bash.
The twice-a-year non-professional tournament (spring and fall) is known for bringing huge numbers of anglers to land hefty fish, and rewarding them with massive payouts. The Big Bass Bash started with a $15,000 grand prize in 2006, and by its 10th year, in 2016, the prize was up to $100,000.
Click here to view the full results
1st Place — Kevin Jones — $100,000
This year's champion and $100,000 winner was Kevin Jones, who caught a 6.42 pound bass less than two hours before the tournament ended, on Sunday afternoon just after 1 p.m. Jones said he caught the fish near the Little Niangua Arm of the Lake, using a jig made by his friend. "That's all I use and they're fantastic," he said at the awards ceremony.
This fish fought a unique battle: Jones said when the fish broke out of the water, the line was rubbing on a dock cable and he had to do a lot of creative angling to get it in the boat without breaking the line.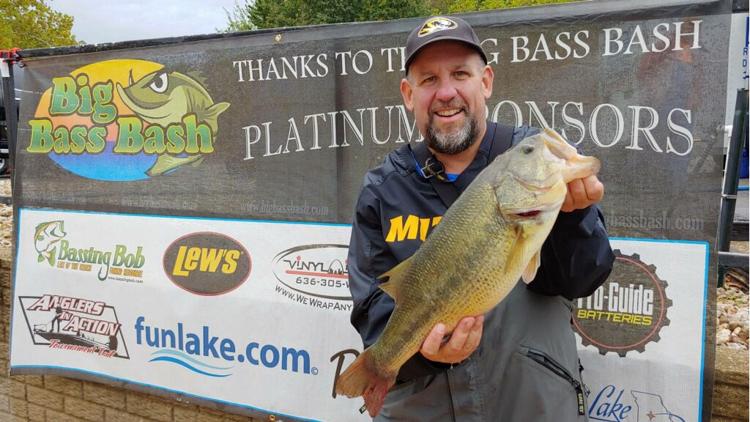 2nd Place — Chris Kellar — $20,000
Kellar landed a 6.36-pounder Sunday in the Linn Creek area, using a Baby Brush Hog lure.
3rd Place — Jeff Schultz — $10,000
Schultz was a using a Texas-rigged Brush Hog lure, and caught his 6.26-pounder on Sunday, on the Glaize Arm near Public Beach #1.
4th Place — Scott Salkiill — $5,000
Scott Salkill caught his 6.16-pounder at about 10 a.m. on Sunday, on the Glaize Arm, using a green pumpkin shaky head lure. Saturday's biggest fish had been a 6.15-pounder, so Salkill's bass put him in first place by 1/100th of a pound... for about 30 minutes, until Chris Kellar brought his fish in, before 11 a.m.
The Spring Big Bass Bash is tentatively scheduled for April 18–19, 2020. Check MidwestFishTournaments.com for schedule updates, tournament rules, and more details.