Grant and Christy Leighty were cleaning their boat next to the Pier 31 gas dock, on Sunday, Sept. 24, when an explosion rocked the cove. 
"It sounded like a huge cannon going off," Grant recalled. They were about 100 ft. away from where James Holcomb, 72, of Nevada, Mo., was refueling his boat at Pier 31, when it exploded into flames. Also in the 1980 Carver Santiago Bay powerboat were Ronald Moore, 76, of Nevada, Mo. and Susan Abele-Burns, 58, of El Dorado Springs, Mo.
As thick, black smoke billowed around the dock, the Leightys realized they had to do something. Thrust into a horrible situation, they helped to rescue two injured people from the boat. Looking back, the husband and wife know they were there for a reason.
"It was horrific," Grant said. "My wife screamed, 'My God, their boat is on fire!' The entire seating and motor compartment was engulfed in flames." Grant dropped everything and ran to their aid. Amid the urgency, another man on the Pier 31 dock apologized aloud because he could not swim. "I could see it in his eyes, he was in agony and getting ready to jump into the water to help, even though he could not swim," Christy said.
Moore and Abele-Burns were seriously injured when the boat exploded. "When we got there, we saw they were both on fire," Grant recalled. "It was terrible." 
The burning boat was tied to a gas dock with three working gas pumps. "Grant ran right out into the middle of it all. He did not hesitate," Christy said. "I thought for sure I was going to lose him that day." But, she added, "Someone had to rescue them."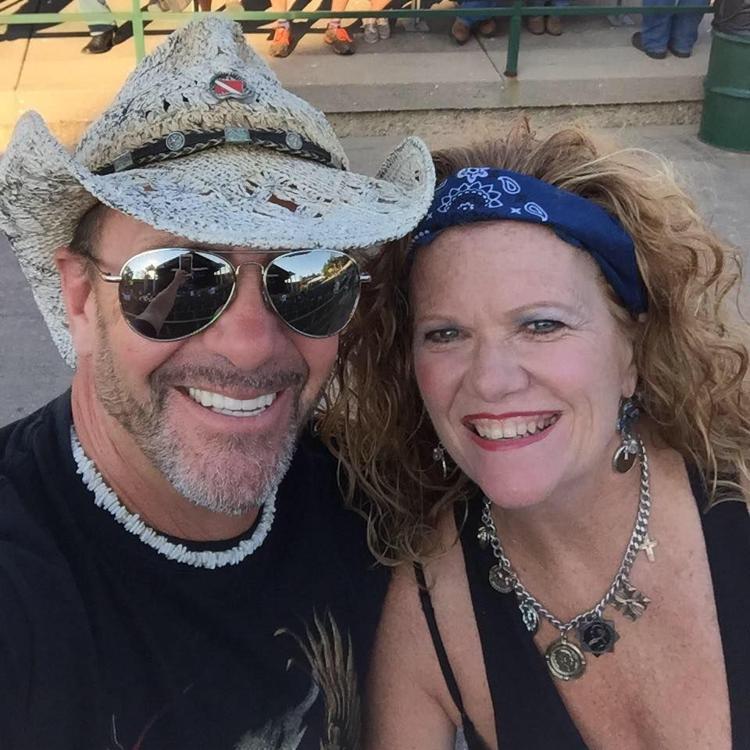 The Leightys recall seeing Moore standing in the boat's motor compartment, which was engulfed in flames. Grant says a dozen or so people standing nearby seemed to be frozen, in shock.
"I was getting ready to climb in the boat to pull them out, when the woman jumped into the water first, and then the man toppled over the boat's railing into the water," Grant said.
Grant yelled to Christy to throw him life preservers, and to stay away from the dock. "He should know me better than that," Christy said. She couldn't just stay back and watch. As Christy ran to get the life jackets, she called 911. She threw the life jackets into the water and the man and women clung to them. 
Grant jumped into the water and grabbed both the man and woman and dragged them over to the dock, about 8 ft. away. He was not able to get them on to the dock, because it was too high, so he pulled them over to a lower jet-ski lift, and they were pulled out of the water, to safety. 
They were alert, but wet and cold. Fortunately a paramedic and a nurse happened to be at Pier 31. They began to attend to the victims.  
"It was the worst thing I have ever seen in my entire life," Christy said. "The man's body was completely burned, and the woman was horribly burned on the back of her head, and from the waist down." 
In the meantime, the fire on the boat was growing. "There were about a dozen or so people who could have been hurt if the gas tanks exploded," Grant said. "That was the scariest part of all. My wife was running back and forth on a dock with a burning boat next to gas pumps." He yelled to others near the dock to cut the boat free and get it away from the gas pumps! Several sprang into action and untied the boat. It slowly drifted away, out towards the main channel. 
Mid County Fire Protection District paramedics arrived and Grant assisted them in putting the victims on back boards and they were taken to a helicopter and life-flighted to University Hospital for treatment of their serious injuries. The Missouri State Highway Patrol later reported Moore was pronounced dead at the hospital on Sunday night, at 8:34 p.m.
At the scene, MCFPD firefighters extinguished the fire on the boat and attended to the sinking wreckage. "I was surprised when I came back three hours later, and they were still working on the boat, they were awesome in everything they did that day," Grant said, adding, "I have never in my life seen anything like that."
"Anybody would have done the same thing in the same situation. You see someone in need and you try to help, and that's all you can do," Grant said. "They told me this morning he passed. It hurts so bad. I wonder, if I could have gotten there a little bit sooner… it's so sad." 
Grant works at Camdenton High School and Christy is a retired principal and former teacher. 
"Their entire family are in our prayers," Christy said. "We are so sorry he didn't make it. We are praying for a miracle for her, and for comfort for all."