In the spring of 2015, a broad-shouldered stranger took its place alongside the quaint storefronts lining the historic Bagnell Dam Strip. Fortified by exposed metal beams and flanked with rough-hewn wood, the massive two-story structure rose to become the home of one of the Lake's favorite dining spots. 
In the few short years since its inception, Tucker's Shuckers Oyster and Tap has garnered a reputation as one of the Lake's most popular inland eateries. Generous in size and overflowing with hospitality, Tucker's welcomes customers to kick back, relax and enjoy top-notch food and cocktails in an atmosphere of casual sophistication. Designed to be a comfortable mix of urban hangout meets rustic lodge, the building features metal elements like industrial pipe handrails ascending the metal staircase and garage windows that open up to outdoor patios. Enormous historic photos of the Lake and Bagnell Dam adorning the walls and an old wooden Chris Craft boat situated above the second-floor dining room pay tribute to the Ozarks' unique past. 
This blend of industrial chic and nostalgic décor stands as an homage to the Lake's history of hard work and forward thinking. It also exemplifies the vision, tenacity and entrepreneurial spirit of Tucker's Shuckers owner, George Tucker. Well-known for investing heavy doses of capital and sweat equity into all his endeavors, Tucker boasts an impressive track record of culinary success. Tucker's Shuckers Oyster & Tap is the third in a portfolio of popular Lake area eateries that include Paradise Tropical Restaurant and Bar, and Franky and Louie's Beachfront Bar & Grill on the Lake's westside.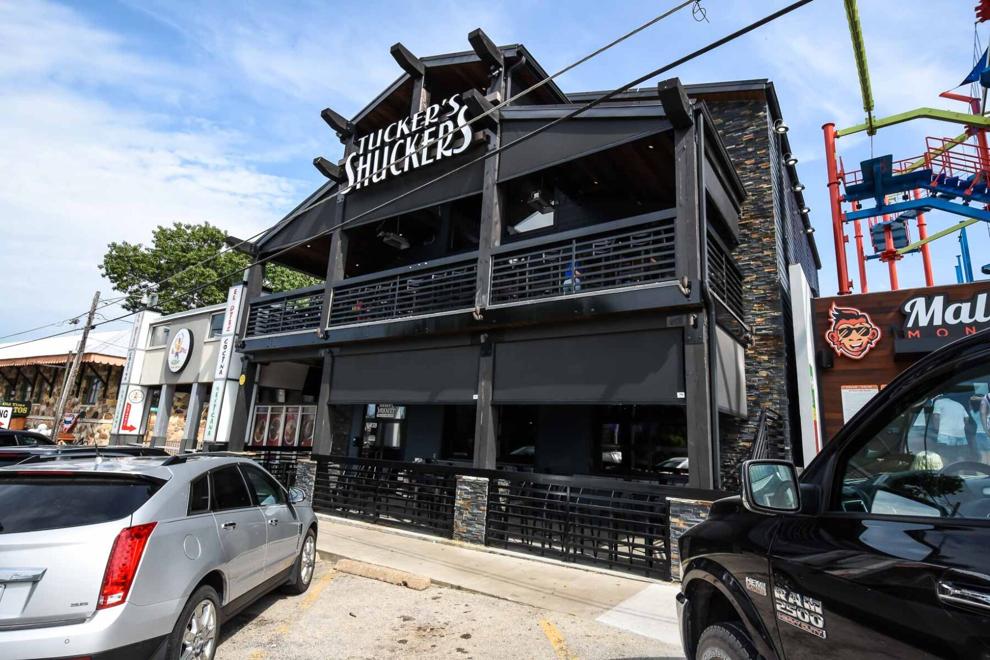 "George is very supportive," Tucker's Shuckers General Manager Tommy Taylor said. "Whether it is investing in new equipment or helping out in the kitchen, he is always ready to roll up his sleeves and get it done."
A lifetime Lake resident, Taylor is well-known to regulars having begun his hospitality career as a bartender at Shady Gator's in Lake Ozark followed by a stint as manager of the former Bootleggers Saloon in Osage Beach. Taylor welcomed the opportunity to lead the helm at Tucker's when it opened in March 2015. 
"We live in a great area; I love the industry and I love our community," Taylor said. "For the most part, I know 90 percent of the people who walk in the door. There aren't many places where you get to work in a place where you serve your friends every day."
There also aren't many places at the Lake where you can enjoy fresher-than-fresh oysters like you will find at Tucker's Shuckers Oyster and Tap. The menu regularly features three different kinds of oysters, all of which are harvested at the time they are ordered and shipped directly to Tucker's kitchen. Whether you prefer your oysters raw on the half shell, chargrilled, fried, baked or fired up with Sriracha, they will go down easy with a cold brew chosen from more than 28 beers on tap. All the servers are well-versed in the brews and food so don't be shy about asking for help in selecting a dish.
Dive Into Tucker's Signature Food & Drinks Below
In addition to fresh oysters and stellar seafood, Tucker's Shuckers extensive menu includes …
Amazing food, friendly staff and laid-back atmosphere make Tucker's Shuckers Oyster and Tap …
In addition to fresh oysters and stellar seafood, Tucker's Shuckers extensive menu includes everything from casual dining mainstays like burgers, sandwiches and salads; to surprisingly sophisticated appetizers that include seared ahi tuna, escargot and scallops; and shake up your pallet dishes like Korean chicken wings and Lobster in a Jar – a mouthwatering mix of lobster meat in a jar of warm, clarified butter served with a side of French bread.
Chef Chris Bond enjoys the challenge of adapting exotic dishes to fit Tucker's diverse clientele, but he also appreciates the value of offering everyday favorites like sliders, Philly sandwiches and fish and chips.
"Working in a vacation destination is different from working anywhere else. You have to change with the seasons and the taste of people from around the country," Bond said. "At Tucker's, we try to mix new and different menu items with the popular dishes customers request time and time again. We make sure to keep tried and true favorites in ample supply."  
Originally from Illinois, Bond relocated to the Lake after attending culinary school in Italy. He joined Tucker's in 2018 after three years as head chef at the venerable fine-dining restaurant, The Blue Heron. 
"The Blue Heron featured fine-dining in a formal atmosphere," Bond said. "The atmosphere at Tucker's is casual, but whether the dish is a salad, a cheeseburger or hand-cut steak, we prepare every dish with the same emphasis on quality that you would find in a high-end restaurant."
Amazing food, friendly staff and laid-back atmosphere make Tucker's Shuckers Oyster and Tap the perfect place to while away the hours savoring mouthwatering food and flavor-packed cocktails. Whether you visit for a light lunch or spend the evening enjoying live entertainment and signature cocktails, the Tucker's Shuckers experience will keep you coming back for more.
Tucker's Shuckers is located on the Bagnell Dam Strip at 1339 Bagnell Dam Boulevard, Lake Ozark, MO. Check out their full menu and upcoming events at tuckersshuckers.com.