With a tree to decorate, cookies to make and decorations to drag out of the attic, the holidays can feel like the busiest time of the year. Gift-buying has gotten more challenging, too, with supply chain slowdowns looming over that Christmas list. But at Lake of the Ozarks, help is coming from an unlikely source this year: Florida Direct Palm Trees has transformed into Santa's Toy Wonderland!
Focusing on live palm trees and Lake/resort gifts and clothing through the warmer months, Florida Direct Palm Trees has put the palm trees in climate-controlled storage for the winter and turned their store into Santa's Toy Wonderland. 
"The palm trees slow down during the holidays and that's why we transitioned into Santa's Toy Wonderland to provide our customers with the largest toy selection in Central Missouri," said the owners of Florida Direct Palm Trees. Florida Direct Palm Trees and Santa's Toy Wonderland is a locally owned business.   Along with their Retail Manager Kierstan, Florida Direct Palm Trees has over 100 years cumulative experience at the Lake of the Ozarks.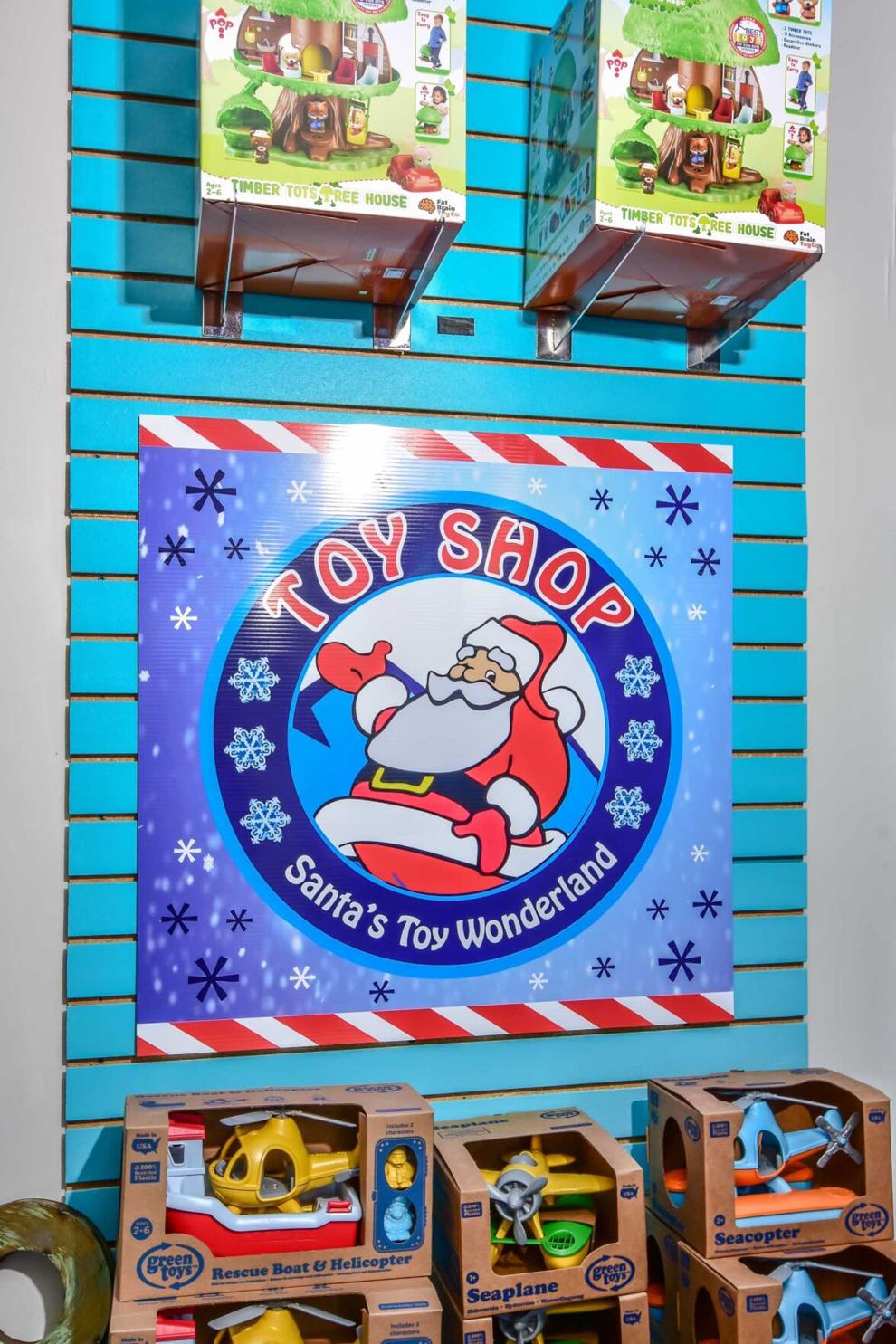 And transition they did: the store looks like it has always been a toy store, with arrays of board games, toy trucks, dolls and so many more of the hottest and trendy toys for 2021. The toys are considered "specialty," boasting a higher quality and more unique selection than you might find in a standard retail store.
"How many gifts do you get that get played with for 2 minutes and then get thrown away or breaks? We have toys that are not only fun but are going to last a lifetime. And in 99% of cases, we have things that the big stores don't have," Kierstan said.
WHERE? Find Florida Direct Palm Trees' Santa's Toy Wonderland at 5923 Osage Beach Pkwy., in Osage Beach one block North of KK. 573-693-9408
"Specialty" doesn't have to mean "expensive." Florida Direct Palm Trees are careful to keep prices competitive so everyone at the Lake can have a chance to bring great toys to their family. 
"Basically what we have are extremely competitively priced toys that kids love, that parents love, that last a lifetime and can be educational or just be fun," Kierstan explained.
Beyond toys for kids, Florida Direct Palm Trees also has a robust supply of gifts for adults including clothes and swimsuits, home decor, Lake-ready accessories and Panama Jack gear, as the Lake's exclusive Panama Jack dealership. So if you need gifts not just for the kiddos but for mom and dad and aunts and uncles-and dogs in our Laketastic Dog section- who love Lake of the Ozarks, look no further!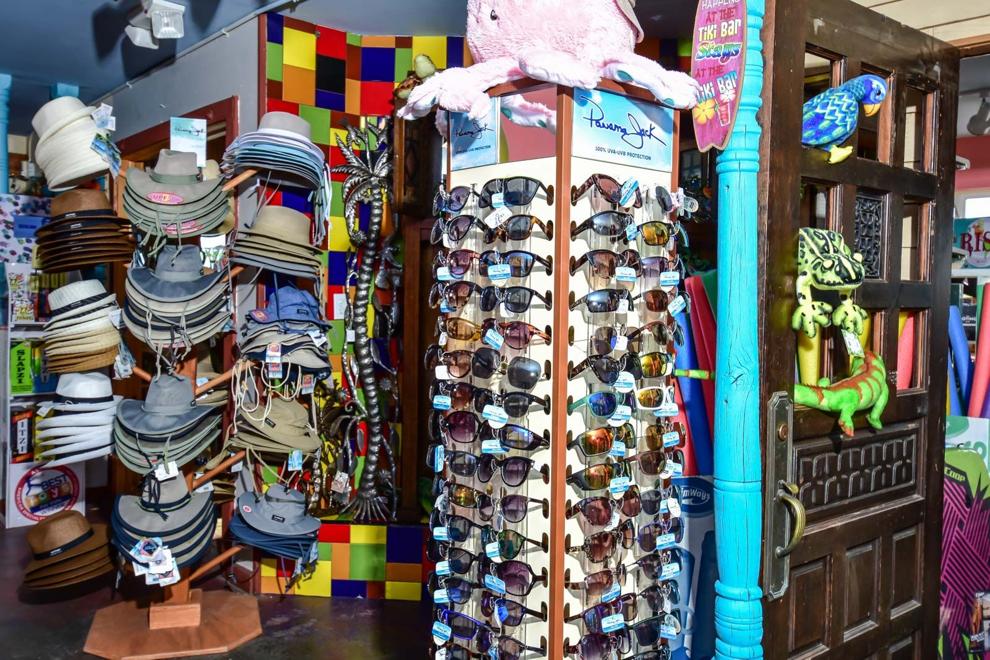 Santa's Toy Wonderland is well-stocked, but it may not stay that way. With supply chain issues affecting everyone, Christmas toys may be in scarce supply this year. In one case, Kierstan ordered 60 R/C helicopters and she only received six.
"We're well stocked with a large selection, but we're still having the same problems as everyone else," Kierstan said. "So we try to tell customers who are thinking about buying—and we're not trying to be pushy—that things might not be here in two weeks."
A Tour of Toy Wonderland
Kierstan has a few favorite toys that she points out during a tour of the shop.
First: Slapzi, a fast-paced card game of quick thinking and hilarious answers.
"It won 'Game of the Year,'" Kierstan said with a smile, then showing off a demo area stacked with games for parents and kids to try before they buy. Family games are a real emphasis at Florida Direct Palm Trees/Santa's Toy Wonderland, with games for elementary through teenagers, including classics like Monopoly and Candyland in their original stylings (no plastic pieces in the Monopoly set: all real metal and the original tokens including the top hat!)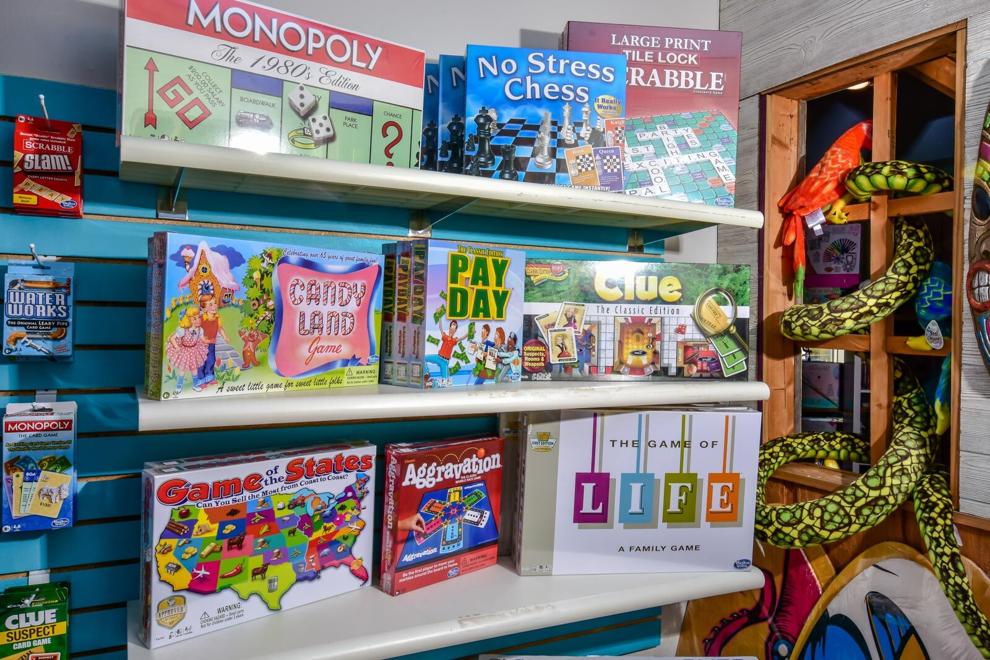 "You want to get the kids off the screen and do family game night and enjoy the games. We have some of the top-selling games," Kierstan said.
If your little one is too small for board games, check out Green Toys! These toy cars, trucks and boats (tug boats are the best sellers and perfect for a kid who loves the Lake!) are all made in the USA from recycled milk jugs. With vibrant colors and stylish rounded edges, these toys are great for any young child obsessed with big machines.
"Made in the USA, they recycle over 5 million milk jugs a year. They're just really fun toys," Kierstan said. The Beach Bag set is actually made from recycled plastic reclaimed from the ocean.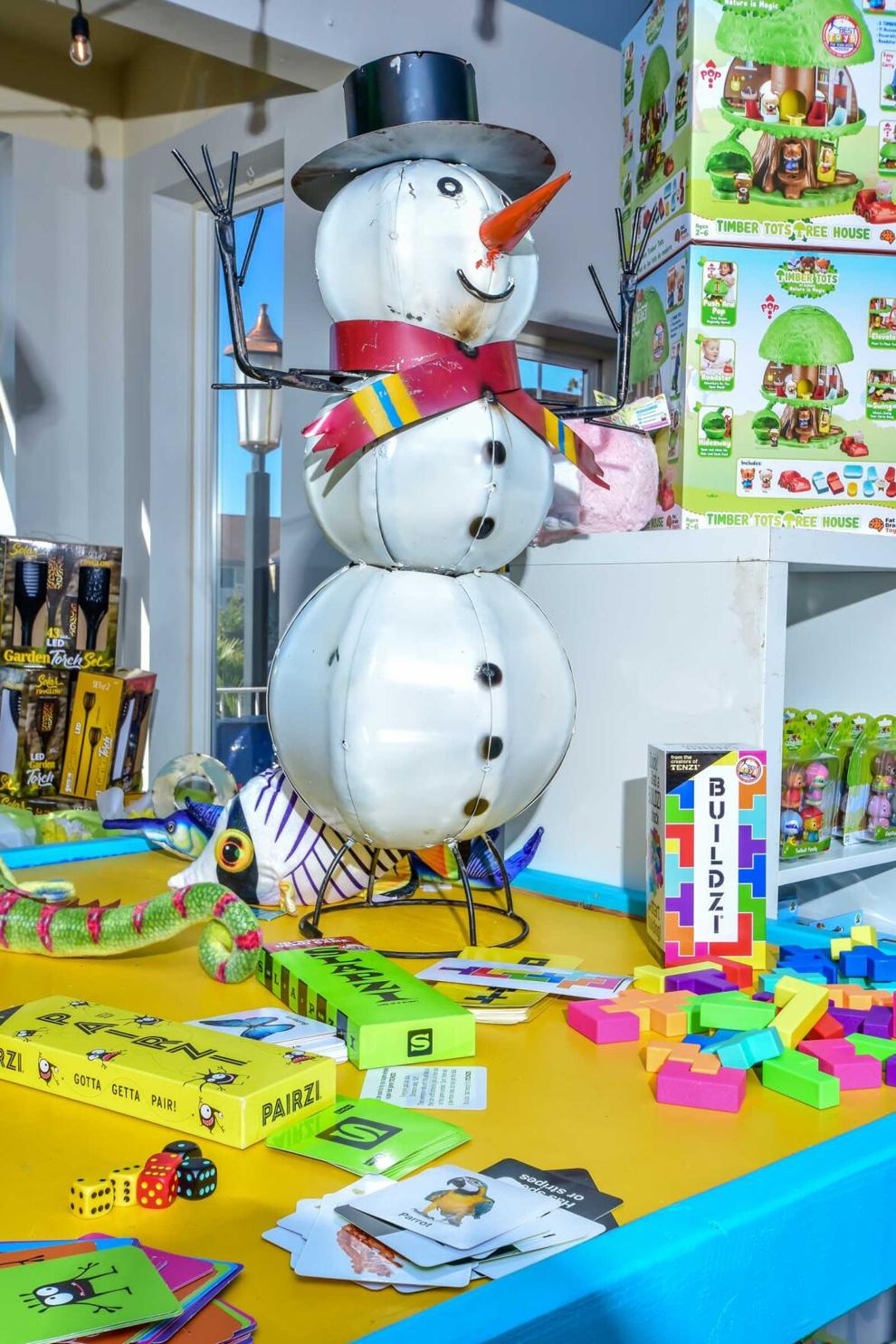 And for older kids, there are craft and science kits galore for just about any interest they might have, from perfume-making to embroidery to rock collecting to robotics. It's hard to go wrong with this much variety.
Shopping for Dad? One of Santa's Toy Wonderlands top sellers are the sports-themed puzzles, perfect for the fan in your life.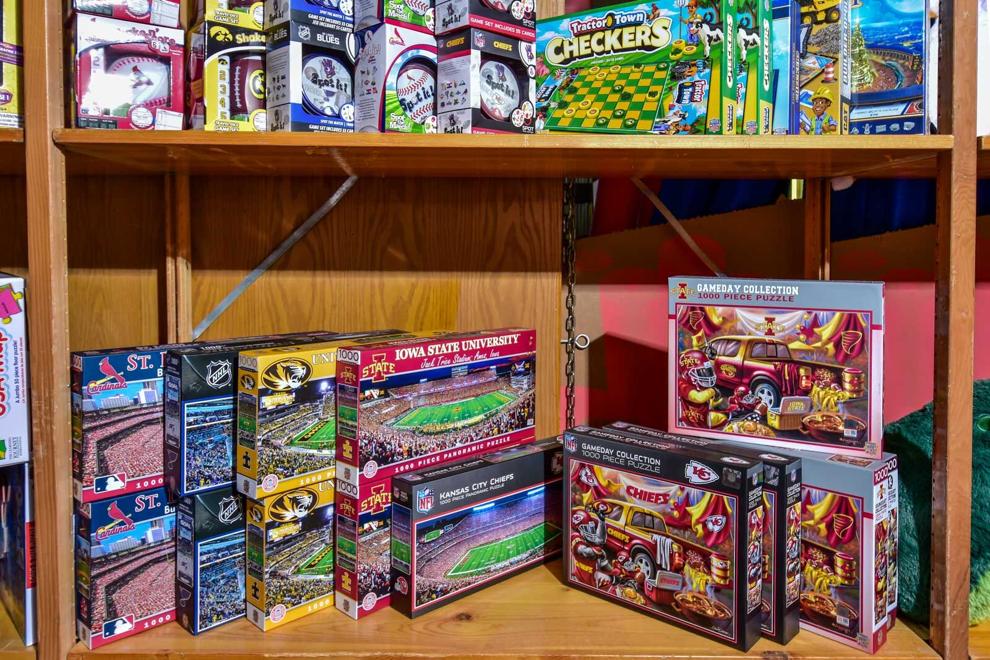 "Cardinals, Chiefs, Blues, Mizzou, Iowa, Iowa State, any of the teams in our area we have puzzles and games for. Shake and Score is a top seller. Think Yahtzee but the cup is a Chiefs (Cardinals, Blues, etc) Football to shake the dice! Our Chiefs items are exceptionally hot right now," Kierstan said.
And for Mom, the Lake of the Ozarks decor is top-notch. From canvas prints and crystal figurines to jewelry to metal wall art and clothes, there's something for everyone's taste back in the Surf Shack Gift Shop.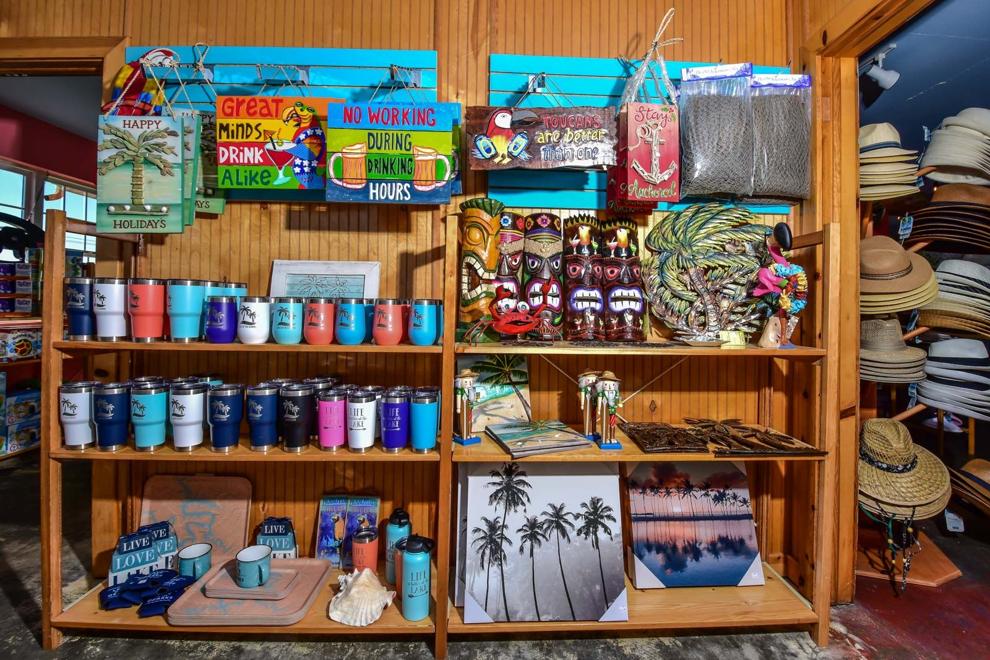 And Florida Direct Palm Trees even has gifts covered for man's best friend. The doggie bed shaped like a Cardinals ball cap is a favorite, and on the practical side they carry a special line of water-resistant collars that keep furry swimmers from developing the infamous rash around their neck that happens when they're in a wet collar for too long.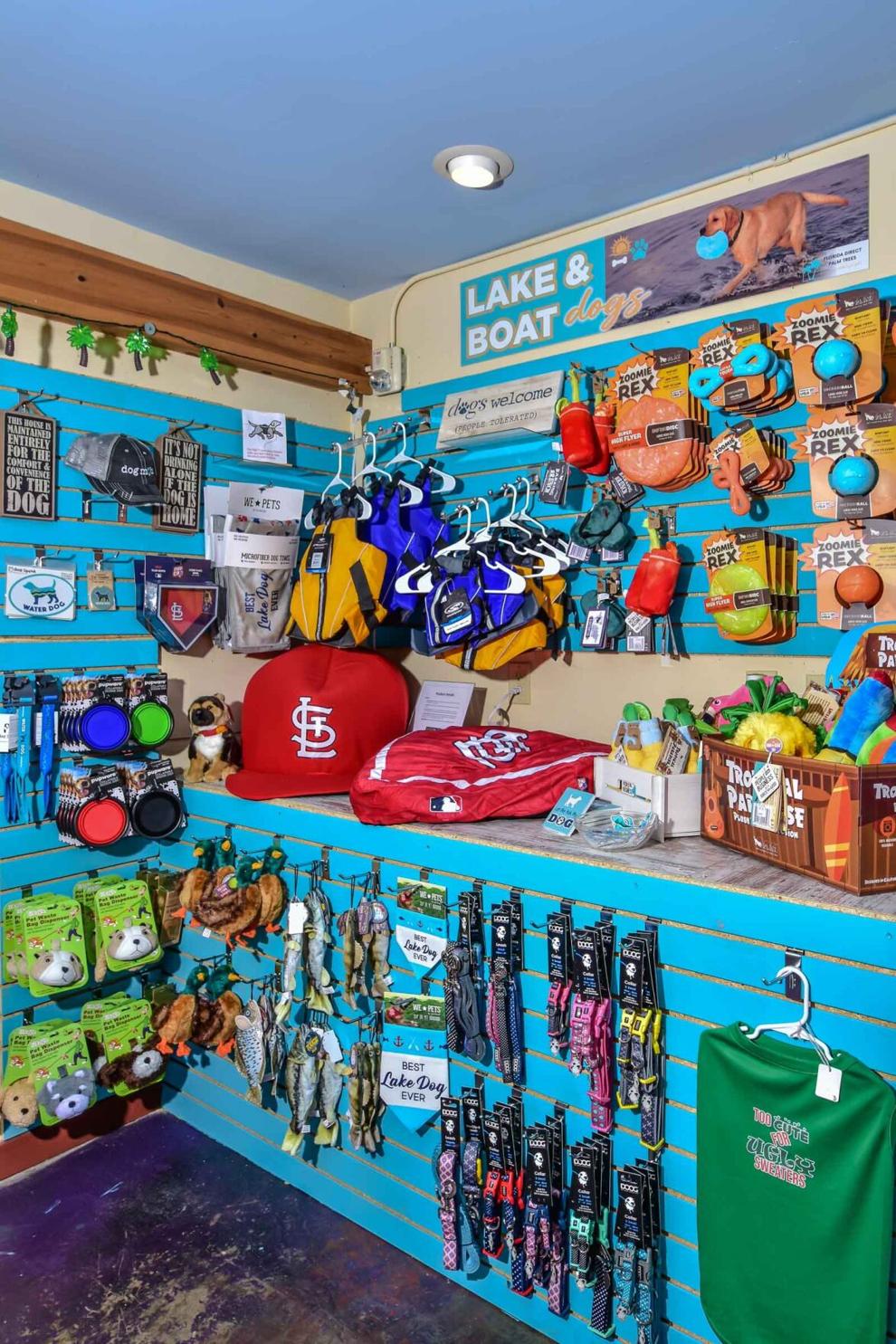 So if you're making plans to wander through dozens of stores this busy Christmas season, in search of everyone's perfect gift, simplify your life and head over to Florida Direct Palm Trees' Santa's Toy Wonderland: the Lake of the Ozarks' one-stop Christmas shop. Check the store for weekly specials throughout the holiday season including our 25% off all children's toys on Thanksgiving weekend, Nov. 26–28.
Ready for Toy Wonderland? 
Find Florida Direct Palm Trees' Santa's Toy Wonderland at 5923 Osage Beach Pkwy., in Osage Beach one block North of KK.
573-693-9408 
HOLIDAY HOURS: MON 10 AM-6 PM
TUE/WED: CLOSED
THUR-SAT: 10 AM-6 PM
SUN: 12 PM-4 PM
Or call for an appointment for a personal shopping experience outside of the Holiday Hours.
CLOSED Thanksgiving Day, Christmas Day and New Year's Eve
Florida Direct Palm Trees Online:
https://floridadirectpalmtrees.com/