First Watch's extensive breakfast and lunch menu offers something for every palate, and in addition to the food's freshness and quality, what often stands out is the portion size.
When you arrive at First Watch, pay special attention to the chalkboard behind the host stand: the day's specials (food and drink) are not to be missed. Since you can hardly go wrong on the menu, it's really a question of where to start. Brilliantly (and kind of surprisingly), First Watch doesn't keep their recipes a secret: you can buy a First Watch cookbook when you pay for your meal! The cookbook is as generous as the restaurant's portion sizes: filled with recipes most of which you know you probably won't go to the trouble to make, but that are a delight to explore as you thumb through the photo-rich pages. And for the ambitious among us, it's nice to know you can replicate that memorable meal in your home kitchen.
Here's to a hearty breakfast and lunch! And here are a few tips on what to order next time you go...
For Breakfast, Brunch, or Lunch:
Avocado Toast
If you don't like avocados, just skip to the next one (also, what is the matter with you?).
Now if you're still reading, you need to know: this will be the best avocado toast you've ever had. If you've never had avocado toast, you're likely a little trepidatious about the idea. Get over it, and order this immediately. The very hearty slices of whole-grain toast are dwarfed on the plate by the incredible, heaping pile of avocado halves atop it. There's at least one entire large avocado on here, and probably more. It's literally a mountain of avocados, and perfectly ripe ones at that. Green onions and parsley perfectly accent its flavor and aesthetic. A salt addict, at first I felt like the dish needed a little extra, but I resisted the urge and just squeezed a little lemon instead. That was the right choice.
I'll say it again: order the avocado toast. (And if you want to make it at home, the recipe is at the end of this article.)
Bacon Traditional with Sunny-Side-Up Eggs
There are a lot of ways to ruin even a straightforward dish like this one. But First Watch's Bacon Traditional Breakfast with Sunny-Side Up Eggs shines. The eggs are cooked just right, and the bacon is hearty and savory. No thin, crumbly strips here: First Watch knows what bacon is supposed to be. Whatever you do, do not start by eating the potatoes: you'll never make it to anything else on the plate. They're salty, and savory, and so uniquely seasoned.
For Kids: French Toast!
The First Watch kids' menu is sure to please, but the french toast was the most remarkable. This is an enormous slice of french toast with a side of bacon or sausage. The only thing bigger than the french toast slice will be the grin on your kid's face.
For Lunch
Club Sandwich
This sandwich is so tall. Between two lightly-toasted, thick slices of bread, First Watch stacks layer after layer of deli meats, cheese, and lettuce. You could probably eat half the sandwich with the small side salad for lunch, and save the other half for an afternoon (or late-night) snack. That side-salad, by the way, is fabulous. The dressing is so fresh and bright-tasting: oily, tangy, and light.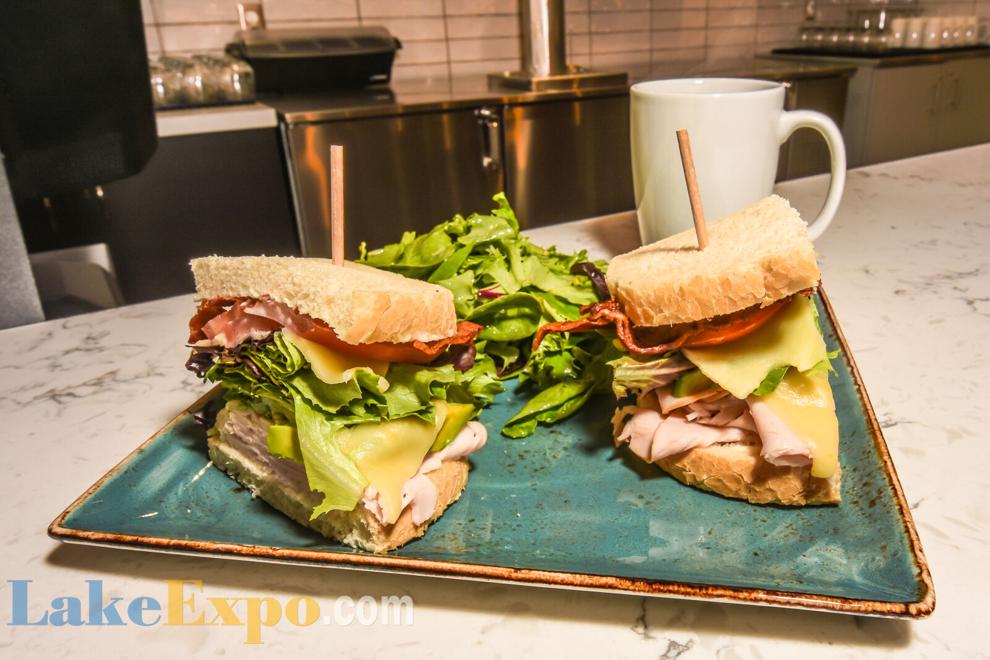 Basil Pesto Bowl
This earned the MenuMasters Most Innovative Dish of the Year in 2014, which is pretty much like the Oscars of the culinary world. This one is a must-try.
-
The Recipe: First Watch's Avocado Toast
For Avocado Mash:
3 avocados (about 3/4-lb), halved, peeled and pitted
1 tbsp fresh lemon juice
1/2 tsp First Watch Seasoning
For Avocado Toast:
1 thick slice whole-grain artisan bread
2 eggs
3/4 cup Avocado Mash (recipe above)
1/2 tsp extra-virgin olive oil (a fine-tip plastic squeeze bottle works best)
Pinch of Maldon sea salt
1 lemon wedge, for garnish
Freshly chopped parsley, for garnish
Freshly chopped chives, for garnish
Prepare Avocado Mash
1. In a mixing bowl, combine avocados with lemon juice and seasoning until evenly coated.
2. Mash with a rubber spatula (or whisk), keeping medium-sized chunks. Don't over mash!
3. Transfer to an airtight container. Seal tightly wit ha double layer of plastic wrap pressed down directly onto the Avocado Mash to limit exposure to the air, which increases browning.
4. Keep in the refrigerator for at least 2 hours prior to serving, to ensure optimum temperature
Prepare Avocado Toast
1. Toast 1 slice of bread.
2. Cook eggs, any style.
3. As eggs are cooking, spread toast evenly with Avocado Mash, retaining a rustic and chunky layer.
4. Slice toast in half and drizzle Avocado Mash with olive oil and sprinkle with Maldon sea salt.
5. Serve on a plate with eggs and a lemon wedge.
6. Garnish Avocado Toast and eggs with fresh herbs and serve immediately