A new sports training center is budding at the Lake, with the goal of helping local kids take their skills to the next level.
LOZ Sports Training was started by Jeff Vernetti, and is located at 1097 Runabout Dr., in Osage Beach, inside the Runabout Storage complex and near Dogwood Animal Shelter.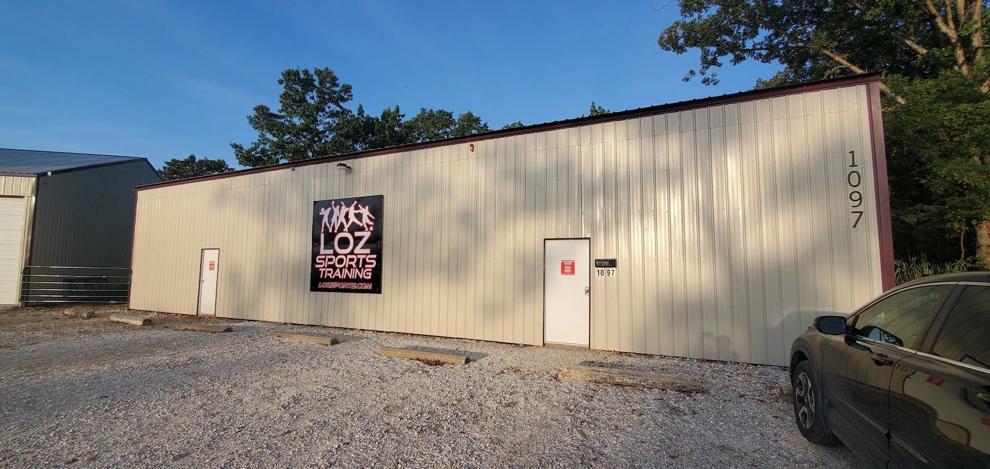 Vernetti's passion is sports: an experienced sports broadcaster out of the St. Louis, he is currently the General Manager of Ballparks National, the new destination baseball/softball complex at Lake of the Ozarks that opened in 2020.
His passion for sports drove him to fill a need he saw at the Lake: a lack of serious sports training. So he opened LOZ Sports Training this fall, a metal building with three batting/pitching cages inside. The focus for now is on baseball and softball training, with an aim to expand into other sports and a larger facility as the endeavor picks up traction. Full-time trainers are available for private or group lessons. Brock Heerdt specializes in all areas of baseball training, specifically pitching and hitting, and works with softball hitters as well. Sara Jones works with softball players and specializes in working with pitchers and hitters. LOZ Sports Training is also looking for additional trainers to join their staff over the coming weeks.
Lessons can easily be scheduled online at LOZSports.com.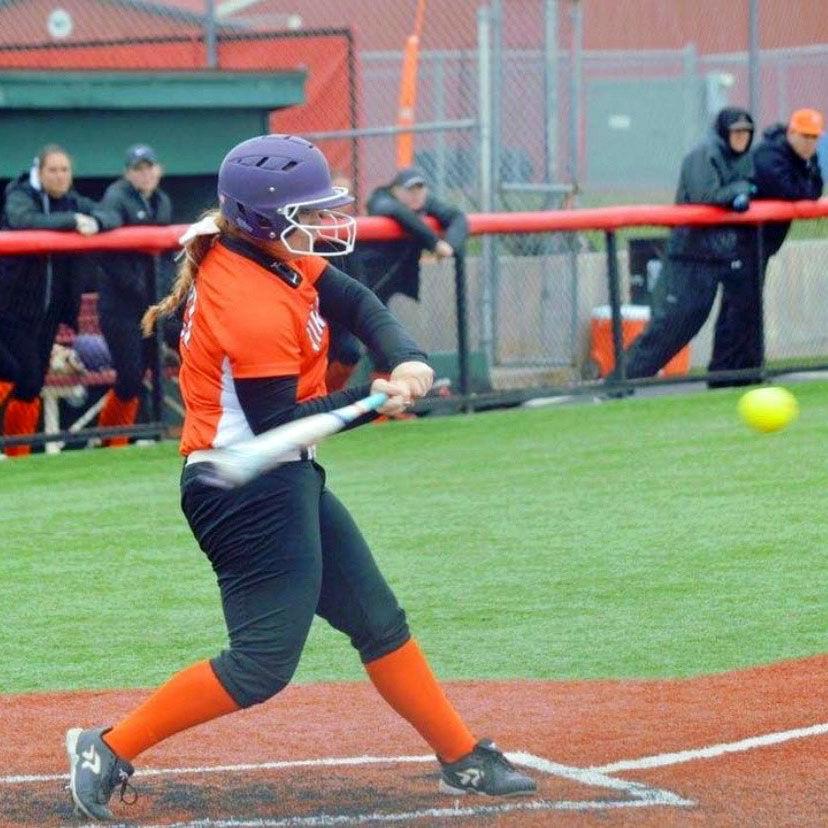 Sara has played softball for 17 years; she played three years at Missouri Valley College before being sidelined with two shoulder surgeries. She finished her Bachelor's Degree in Exercise Science and is working through a doctoral degree in Physical Therapy at Southwest Baptist University. In her online bio, she writes, "Over the years, I have played many competitive teams, where I have learned multiple ways to approach the strategies of softball to help me decipher the best way to approach the game."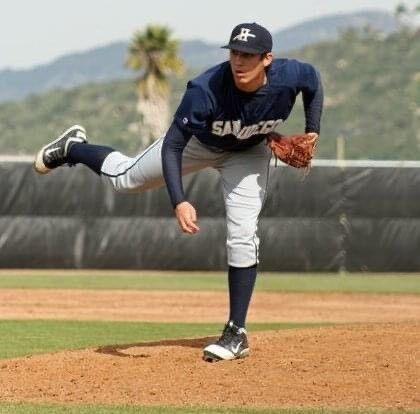 Brock played and coached on the West Coast for the last 28 years. Having ultimately signed with the Hawaii Stars of the Pacific Association after his college career. His professional career ended due to an arm injury, which is a large reason he takes arm care/development so seriously as a coach. So now he is pouring his experience and energy into boys and girls who want to better their game. Brock has held coaching positions in college and high school baseball and helped players pursue their dreams at the next level both collegiately at schools like Harvard, University of Arizona, GCU, and West Virginia State, as well as Minor League Baseball and Major League Baseball. "I am passionate about baseball/softball," he said. "But my real passion is helping these kids." 
A Lesson Snapshot
When my 10-year-old son Saylor meets Brock for the first time, he's a little nervous, but that dissolves almost instantly, as Brock asks him questions about his favorite team (Cardinals, of course), and his favorite player (Yadi, of course). Then Brock gets him throwing the ball: warmups first, and then full pitches, watching his motion, praising the good and helping adjust the bad.
Things I overhear, as I linger nearby…
"Next throw, stop halfway through, then finish like this…"
"I don't want you to focus on the leg-kick. It's just gonna happen…"
"I like that tight arm-motion, that's really good…"
"You play video games? Yeah? Ok so Minecraft? So your hand right here? That's your cannon…"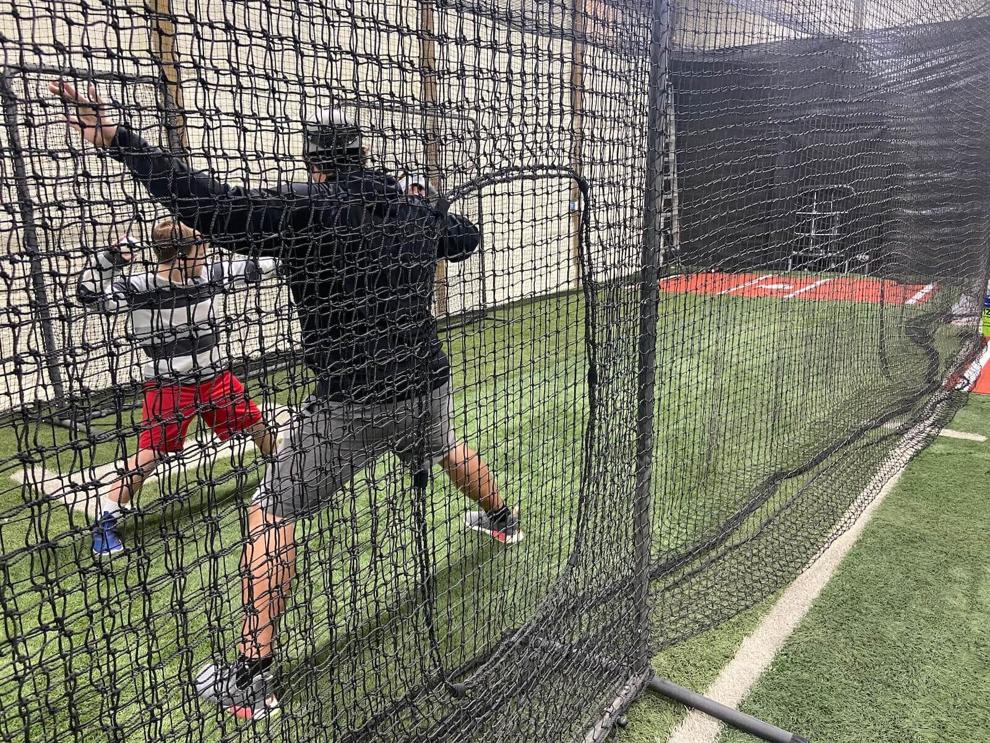 After a single 30-minute lesson, I can tell Saylor is already throwing better, and he leaves with "homework," which involves him repeatedly throwing a tennis ball into our couch that evening.
Better Training, Better Tech
Indoor training facilities, like LOZ Sports, are common in larger cities throughout the Midwest. With the opening of this facility at the Lake, area athletes will be equipped to better compete against other regional competition.
The Lake area is not without any baseball and softball opportunities for kids: from rec leagues to travel teams to school sports, kids get the chance to play. But LOZ Sports, Jeff says, will "help kids realize they can be better." Making a small adjustment can completely change the game, he points out, and that can help a kid realize what they are capable of. Now, not every kid who loves baseball/softball will play college ball, but LOZ Sports gives them a unique advantage that goes beyond even just a dedicated trainer: technology.
Two pieces of technology in particular are key in LOZ Sports' training process.
The first, Diamond Kinetics' SwingTracker: a sensor placed on the bat that tracks the player's entire swing and displays it on an app. Swing plane, velocity, impact power, and other metrics can be precisely measured, and that allows the trainer to hone-in specifically on areas that need improvement. The tool also identifies "hot zones," where the athlete tends to connect with the ball most frequently.
Then, the SwingTracker can work with a Virtual Reality headset, and that's where things get really cool. The trainer can plop a kid in Busch Stadium, facing pitches from Adam Wainwright. Beyond the novelty of that experience, it also hones young athletes' ability to identify pitches as they're coming in. At the computer, the trainer can adjust the pitches and decide which one is coming next, then ask the athlete whether they think it was a curveball, fastball, slider, etc. Of course, they can swing the bat at the pitches too, and the SwingTracker makes the whole experience feel very real.
The second piece of tech is the Rapsodo Pitching & Hitting cameras. These unique devices—a camera-radar hybrid—are set up in front of the pitcher or hitter, and provide massive metrics for both of those critical motions. Brock says it's overkill to set those up for every lesson, but they're helpful to use not only as a tool for precise training, but also as a way to help quantitatively show parents that their money is being well-spent. Their kid is getting measurably better. "I really like the toys because it helps keep the kids engaged too," Brock said. "They like to see it digitally displayed… plus, this isn't gonna lie to you."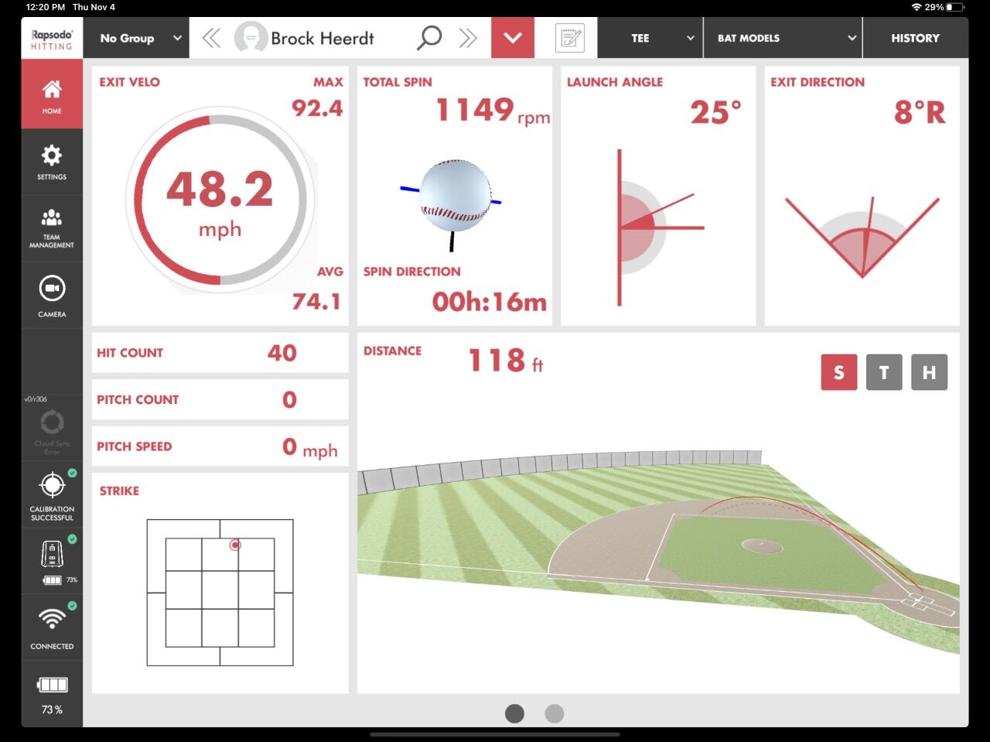 What's remarkable about Rapsodo is that all those metrics flow into a data file for that individual player. Then, the trainer can send that data file to a college recruiter, allowing the recruiter to evaluate a larger pool of athletes. Brock says he can simply say to a young trainee, "Hey tell me where you want to go, and we'll send them your metrics." If a kid can't hack it at a top-tier school, Brock points out their Rapsodo file can help them connect with a smaller school where they could still get scholarship money and get the chance to play college ball.
This kind of tech, Brock says, is rapidly making the recruiting world smaller. That means kids who have talent and work hard can actually get the chance to play college ball—whereas previously they might have been limited simply by being unable to afford recruiting trips across the country.
For Brock as for so many people, sports offers something beyond just a game. At a low-point in his youth, Brock says baseball helped him out. "Baseball is what got me out of trouble and kept me out of trouble," he said, adding, "I wanna invest in kids lives because I know I wouldn't be here if I didn't have somebody who did that for me."
"Baseball in particular teaches you a lot of things about life. Being a game of failure. Boy does it humble you a lot."
Brock says that some trainers teach shortcuts and methods that may aid in the short term, but leave an athlete injury-prone or at a competitive disadvantage down the road. He's passionate about mechanics that keep athletes healthy, efficient, and explosive. He explains, "Your best ability, is your availability."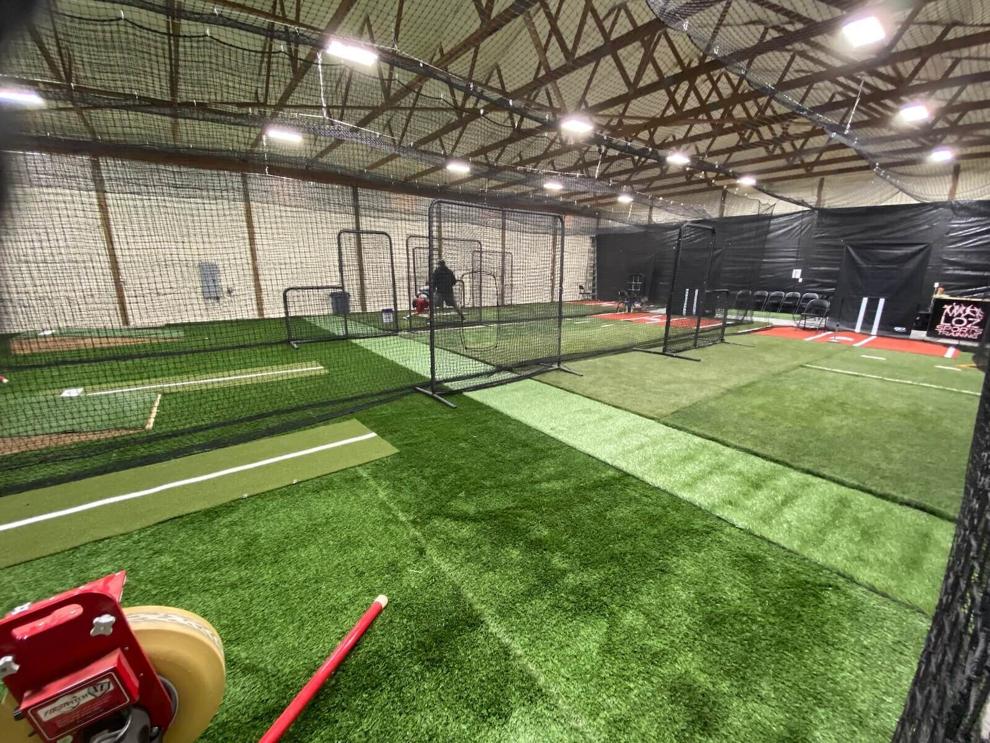 Schedule A Training Session
LOZ Sports Training is ideal not only for individual baseball and softball players, but for teams or adults, too. Thanks to the indoor, climate-controlled space, individuals or teams can come train when it's snowing outside—or when it's sweltering. Brock and Sarah are equipped to train at all skill levels, and in all areas, including pitching, defense, hitting, and throwing.
LOZ Sports is also open to the public for booking a batting cage. The three cages each have their own pitching machine. And while typically a staff member or trainer will be there, the facility also works on a self-service basis. A cage can be booked online, LOZ Sports will send a door code to get inside, and the rest is self-explanatory.
To make things cost-effective for families, individuals or teams, LOZ Sports Training also offers lesson packages and cage rental packages – which decrease the cost of one-time purchases and allows items to be purchased in bulk. Find out information on their rental and lesson rates at LOZSports.com.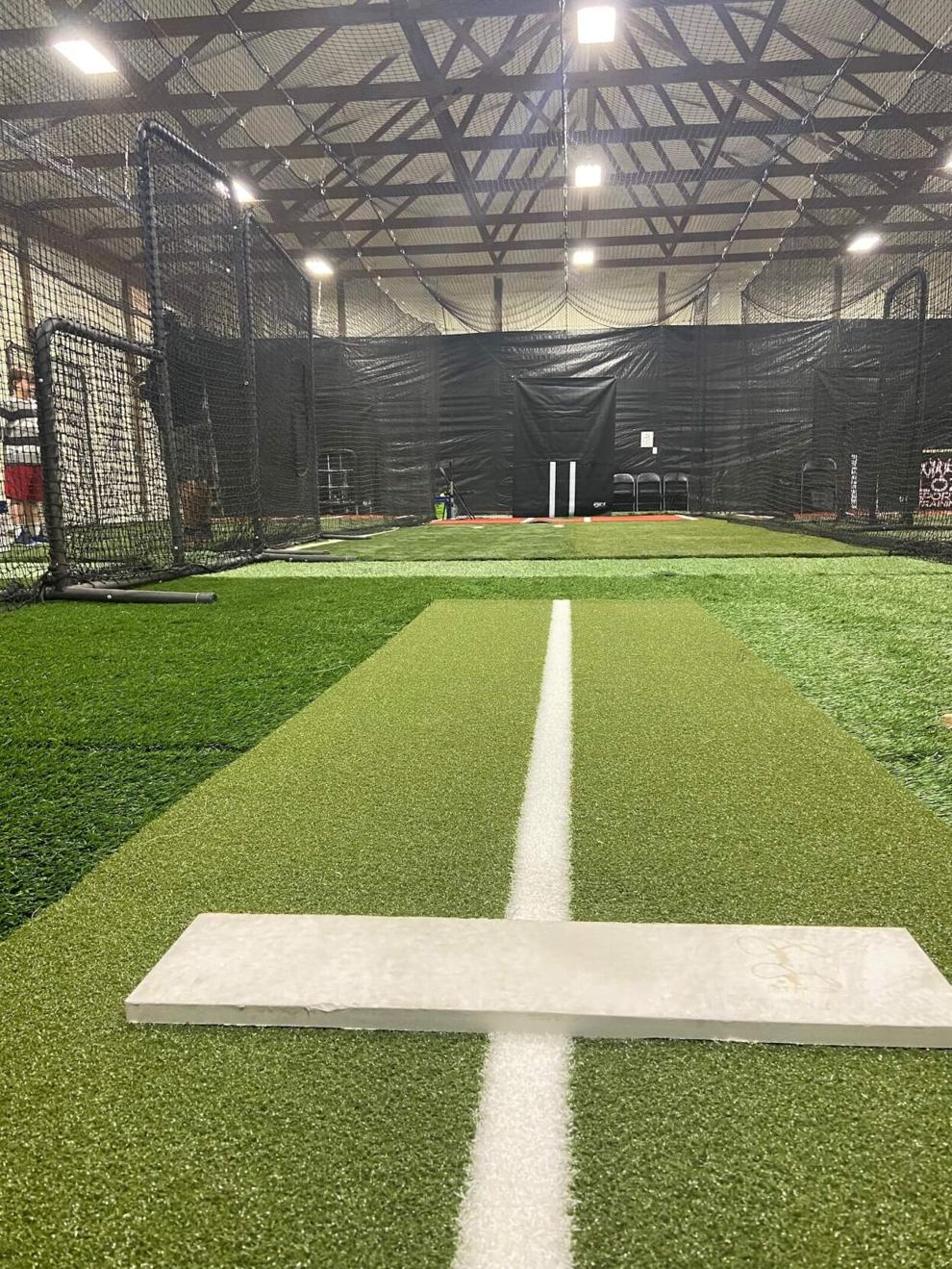 Grand Opening & A Discount
LOZ Sports Training will be holding a ribbon cutting and grand opening with the Lake Area Chamber on Wednesday, Nov. 17 at 4 p.m. The public is welcome to come check out the facility, meet the instructors, and more. In addition, they're offering a 25% discount on all lesson and cage rental packages – only in-person at the event.