Long before Lake of the Ozarks earned notoriety as the No.1 Recreational Lake in the United States, an old-time Wild West theme park called Gold Nugget Junction treated visitors to gunfights, saloon shows and steam locomotive rides. Among the cigar box stores that adorned the little theme park's boardwalk, sat a tiny jewelry store that was the beginning of a hopeful young couple's future dreams. 
Today, the dusty dirt roads of Gold Nugget Junction lie beneath miles of paved roadway known as Osage Beach Parkway. And that snippet of a jewelry store has grown to be one of the premier diamond and fine jewelry retailers in Missouri.
Founded in 1974 by Jim and Marybeth Duncan, Duncan Diamonds and Fine Jewelry is the manifestation of a passion for jewelry-making that began when Jim took a silversmithing class in college.
"About the only thing I was good at was art and phys-ed, or at least that's what I applied myself to," Jim said, looking back on his time at Radford University in Virginia. "I would skip almost all my other classes and then spend a lot of time in jewelry-making class."
One of Jim's first creations combined two of his favorite things: jewelry and sports cars. A shiny silver bird, shaped to resemble the iconic flaming bird logo on the hood of his Pontiac Trans Am, the custom piece nearly met a catastrophic end.
"I had this high-polished piece of jewelry on the roof of my car in a wooden box and drove off without putting it in the car," Jim recalled. "As I turned onto the main road, it fell off the roof of the car and subsequently spent about eight hours getting run over by traffic."
After realizing what happened, Jim tracked down the battered remains of his creation and took it to his professor for advice on how to repair the damage. The teacher's verdict? Nothing, zero, nada could be done; the piece was ruined. 
But Jim was not to be deterred.
"I didn't accept that," Jim said describing how he straightened and then re-shaped the silver bird back into a one-of-a-kind treasure. "I found an anvil that would duplicate the texture that the cars had made while running over it. I think that has pretty much always been my attitude."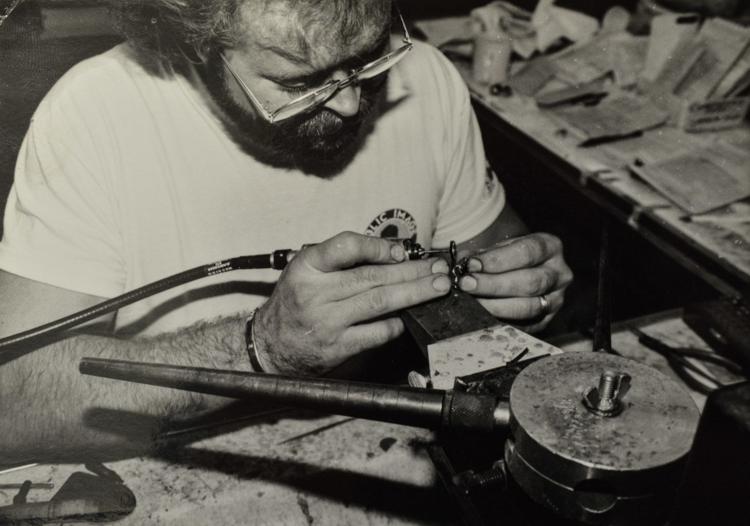 That attitude of perseverance sustained Jim and Marybeth as a young couple struggling to make ends meet. And it enabled them to build a glimmer of a dream into a successful business now celebrating its 45th anniversary.
In 1974, encouraged by the enthusiastic response to Jim's early designs, the couple loaded up about 40 pieces of custom-made jewelry and moved the business to a retail store located on what is now Osage Beach Parkway. By November of that year, they landed their first big custom order from Lee Mace, of Lee Mace's Ozark Opry. 
Today, with the next generation of Duncan family members at the helm, Duncan Diamonds and Fine Jewelry stands out as a highly-respected retailer of fine jewelry. The store offers a full line of name-brand jewelry along with an ever-changing array of custom-made pieces that stand as the foundation of the Duncan legacy.  
Duncan Fine Jewelry: Through The Years
photos courtesy of Duncan Fine Jewelry
That legacy includes treating every customer with the integrity and appreciation that made Duncan a trusted name in the jewelry business.  
Their son Michael Duncan oversees operation of the thriving family business and stresses the importance of staying true to the values that lie at the core of their success. 
"Every customer that we are fortunate enough to have walk through our doors has a set of expectations," Michael said. "My team feels that if we can meet and exceed those expectations, we will succeed and be able to support the community that supported us for so many years."
A School of the Osage graduate, with a Bachelor's in General Business from Missouri State University, Michael credits his parents for raising their children to have a deep appreciation for hard work and quality. In fact, one of his first jobs was picking up cigarette butts from the store parking lot for a penny apiece. 
"It was the 80s and it seemed like every other person smoked, based on the number of pennies I earned," Michael recalled noting that he keeps the parking lot meticulously cleaned to this day. "I've thought a lot about how beneficial that experience was, as a lesson learned. I thoroughly enjoy the jewelry business and I never really wanted to be anything other than a jeweler."
Michael has plenty of family support to help him guide Duncan Jewelry into the future. His sister Julie not only works in sales and billing, but she also has a flair for design that includes pairing earthy stones with free-flowing mountings that bring to mind the rough-hewn hills and rambling waterways of the Ozarks.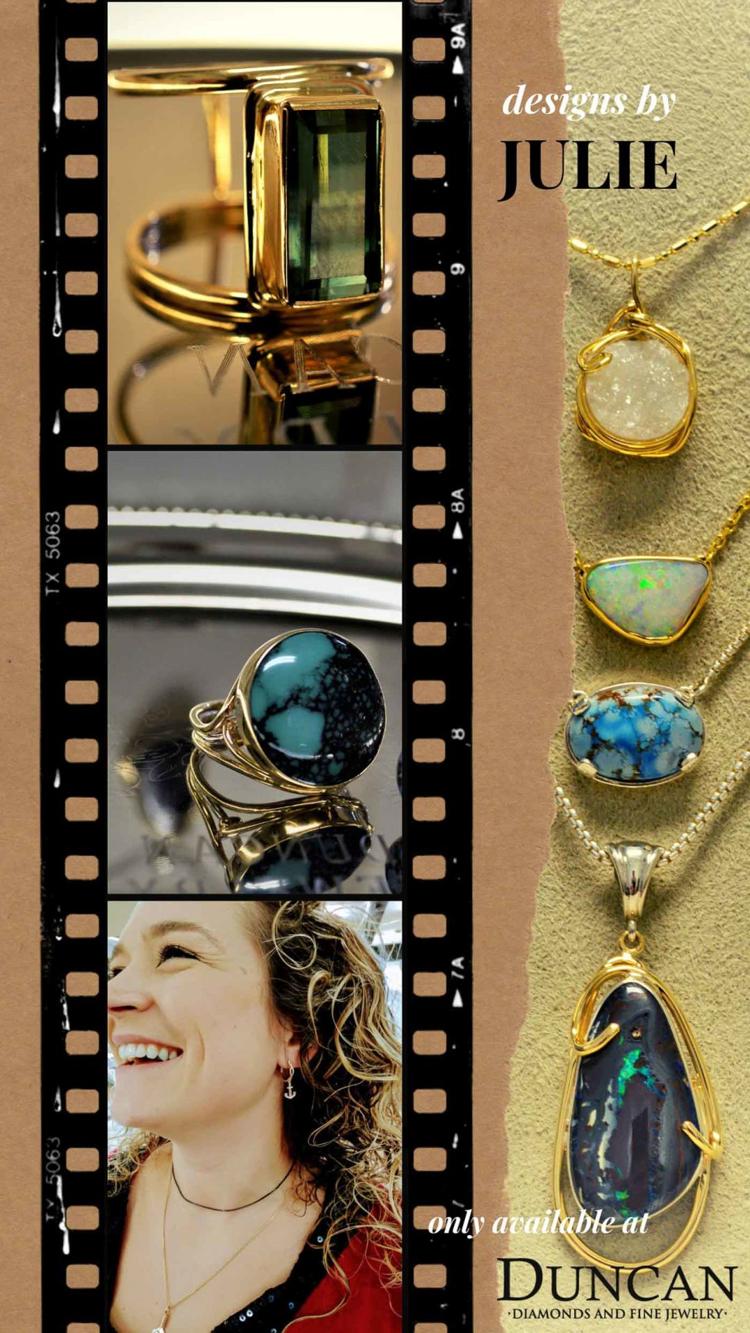 Jim's brother, Mike, breathes life into these custom concepts as a goldsmith and jewelry designer. Nephew Eric Salee works as a goldsmith and a "jewelry repairer extraordinaire." In addition, Jim's sister, Kathy Moyer, heads up the front office. Kathy's son, Matthew, handles marketing and communications - a job that requires keeping pace with ever-changing social media and digital marketing trends. 
Still, Matthew stresses that the best marketing strategy starts with providing customers with exceptional service and that starts the moment they walk through the door. He said their team is only complete with the help of Sales Specialist Lacey DenHartog, who provides world-class customer service and extensive product knowledge with the congeniality of a long-lost friend. "Of course, I would be remiss in failing to mention resident interior decorator and Sales Specialist Stephanie Fisher," he added, "who seems to possess a seemingly endless supply of contagious energy. She has never met a stranger, only friends."
"We are receiving more and more interest through live messaging, social media and email," he said. "But most of our customer interaction still happens in the store, where we work hard to provide every customer with highly personalized service."
Duncan Jewelry - Handmade Jewelry Pieces
As for the couple who started it all, these days you will likely find Jim and Marybeth on the Lake enjoying time with their grandchildren. They're thrilled to see the business, which they shaped from a few dozen pieces of handmade jewelry, grow into a Lake area treasure and continue to flourish in the care of the next generation of Duncan family jewelers.
"I still like to design jewelry when I get the chance," Jim said. "But I love cultivating friendships with our customers and watching the second generation grow and mature into respected professionals."
Duncan Fine Jewelry is a member of the Independent Jewelers Organization (IJO), the largest independent jewelry buying group in the world. Browse their online selections at duncanfinejewelry.com or reach them by phone at (573)348-3332. Better yet, drop by the store at 4050 Osage Beach Parkway; Osage Beach, MO.