While I sip a frozen drink and take in the colorful tropical vibes and boats crisscrossing the Lake, Chef Nathan serves the first of Paradise's signature dishes: their Crab Cake Entrée, consisting of three pan-seared crab cakes, topped with homemade mango salsa on top of a sriracha aioli drizzle. The presentation is truly a piece of art.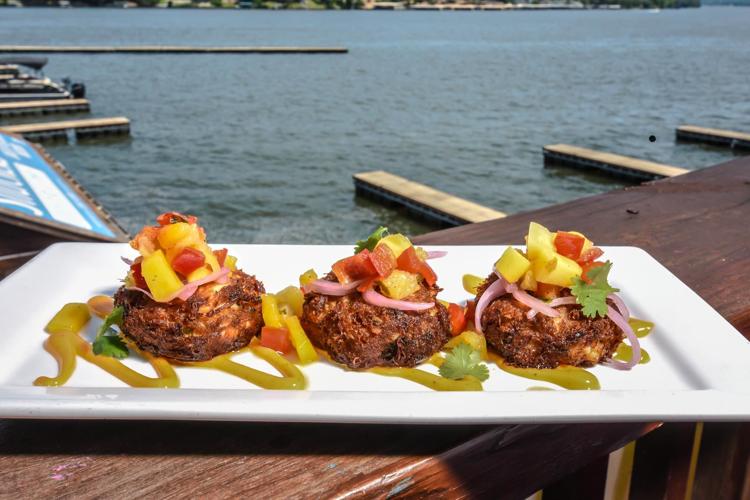 These crab cakes seriously take the cake! Perfectly crispy on the outside with mouth-watering, real jumbo lump crab, and just enough breadcrumbs to keep the cake together on the inside. The mango salsa is zesty and fruity with a bit of a zing, and the sriracha aioli is wonderfully creamy.
Then Chef Nathan presents his Bleu Cheese Encrusted Filet, with a side of perfectly-cooked broccoli and the creamiest and cheesiest baked mac n' cheese that I've ever had. The prime Angus filet, an 8 oz. hand-cut in-house and char-grilled to perfection, practically melts in my mouth. Combined with English Stilton bleu cheese, this pairing is a lip-smacking explosion of texture and flavor that will bring you back to Paradise again and again.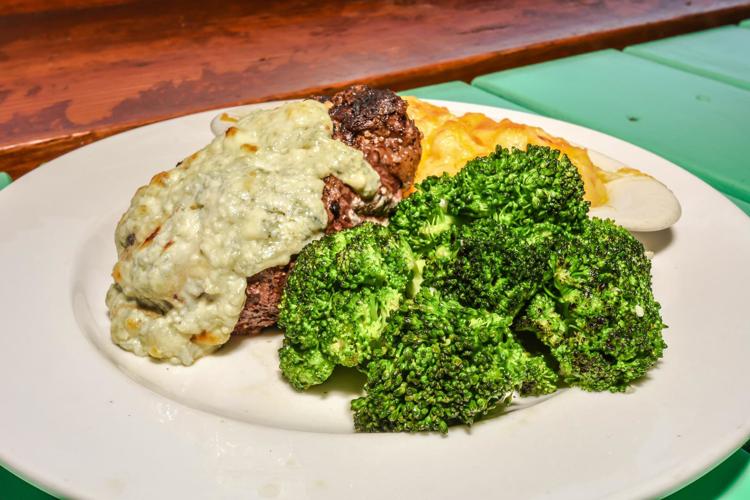 Click here to view Paradise's menu.
-
Paradise is open every day at 11 a.m. and has live music Tuesday – Sunday, through September. A brunch buffet available on weekends and holiday-Mondays at 9 a.m. features made-to-order Eggs Benedict as well as specialty Mimosas and Marys.
With three bars, an arcade, a wall of TVs to watch sports, and a quaint air-conditioned dining room with bar, every day is paradise at Paradise Tropical Restaurant and Bar! Visit at 430 Tropical Trail in Sunrise Beach or by water at the 24MM. Curbside pick-up available by calling 573-374-4777.