There's nothing like a long, hot (quarantined!) summer to inspire one to soak up this cool, fall weather and all that comes with it. Autumn at the Lake of the Ozarks brings crowd-free boating, bonfires, great temperatures and beautiful colors. But it can also bring indoor air quality concerns. And in the year when every sneeze feels suspicious, plenty of autumn sniffles can be blamed on ragweed, mold, dust and dander: the tiny menaces that can wreak havoc on the human body, especially this time of year.
Fancy filtration and disinfectant systems for furnaces abound to improve indoor air quality, Abrahm Mayo, founder of Honest Abe's Home Services, has found many of them simply don't work for condo owners at the Lake. There just isn't enough space. So as a condo owner, what is an easy and effective tool to deep-clean your home? "Air duct cleaning," says Mayo. "It's one of the easiest and most overlooked things you can do to maintain your home."
Call Honest Abe's: (573) 223-8518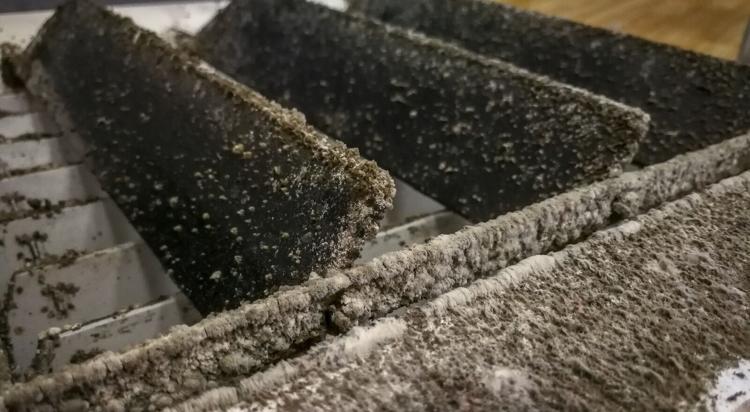 Condos can change owners quite frequently, and each person has different living standards, pets, or cooking habits that could leave a lot of crud built up in air ducts: like a little unseen, unwanted gift for the next condo owner. Whether it's mold, dander, dust, pollen, bacteria or virus, air ducts can be an ideal collecting and breeding ground. The National Air Duct Cleaners Association puts it this way: "Through normal occupation in a home, we generate a great deal of contaminants… These contaminants are pulled into the HVAC system and re-circulated 5 to 7 times per day, on average. Over time, this re-circulation causes a build-up of contaminants in the duct work."
Should your air ducts be cleaned? The Environmental Protection Agency (EPA) says you should definitely consider it if:
1. There is visible mold growth inside hard surface (e.g., sheet metal) ducts or on other components of your heating and cooling system. 
2. Insulated air ducts and the insulation gets wet or moldy. If this happens it cannot be cleaned and should be removed and replaced.
3. The conditions causing the mold growth in the first place are not corrected, since mold growth will recur.
4. Ducts are infested with vermin, e.g. (rodents or insects). 
5. Ducts are clogged with excessive amounts of dust and debris and/or particles are actually released into the home from your supply registers.
Honest Abe's Home Services features several package options to meet home and condo owners' cleaning needs and budget.
The Basic Package: Honest Abe's crew prides themselves on using a brush/vacuum system, which simultaneously knocks debris off the duct walls and sucks it out. Their team will thoroughly go through each supply line.
Additional Package Add-Ons:
1. HEPA Filtration:  A negative pressure system is added to the furnace during the cleaning process to ensure all the air/debris/spores are pulled out of the house.
2. Anti-Bacterial Fogger: After duct cleaning, an anti-microbial, fungistat and deodorizer can be applied to the duct system to impede with future debris collecting on the walls of the system and to deodorize the air. 
3. Scent System: After duct cleaning, a scent of choice can be applied to the registers to reduce odors associate with pets, smoke, etc…
4. Complete clean in blower motor & coil: Indoor air quality isn't just impacted by air ducts. Blower motors and coils can also become dusty or moldy with time. The blower motor is what moves the air. If it's dirty, it can blow dirty air. The coil removes the hot air and condensate, which means water can collect and grow mold and fungi/bacteria on the coil. Abrahm explains in condos the coil and blower motor are frequently quite close, which means the blower can end up disseminating mold spores from a contaminated coil. The EPA also says duct, blower and coil cleaning could improve the efficiency of your furnace and increase its lifespan. 
Whether you're looking to winterize the condo for the season or just preparing for cooler weather, the fall is the perfect time to test your heating system and remove the dust and dander built up in supply ducts. Honest Abe's Home Services is offering seasonal specials on the duct cleaning from now through November.
Call Honest Abe's: (573) 223-8518